All about the Wild Islands of The North Atlantic SHETLAND AND FAROE ISLANDS.
Explore remote UK islands and sites. From historical monuments to colorful puffins, dramatic landscapes of sweeping moorland and rugged coastlines, on this voyage we will discover seldom visited areas, largely inaccessible except by ship. 
For those who go off the beaten path, there are places in the British Isles where nature is still wild and history can be touched.
Sailing round-trip from historic Edinburgh, Scotland, discover dramatic landscapes of sweeping moorland and rugged coastlines, on this voyage you will discover seldom visited areas, largely inaccessible except by ship. The remote Faroe and Shetland Islands are famous for Viking history and abundant bird life.

Pre- and Post-cruise tour programs are available-
The tour package inclusions and exclusions at a glance
What is included in this tour?
Items that are included in the cost of tour price.
Overnight Edinburgh hotel prior to cruise;
Group transfer to the ship on day of embarkation;
Shipboard accommodation;
All meals on board throughout the voyage;
Tea and coffee station 24 hours daily;
WiFi
All scheduled landings/excursions (subject to weather);
Leadership throughout the voyage by our experienced Expedition Leader & Expedition Team;
Rubber boots for shore landings for the time of the cruise;
Welcome and Farewell cocktails;
All port fees;
Group transfer to airport or central location upon disembarkation;
Pre-departure materials;
Digital Voyage Log;
Whats not included in this tour.
Items that are not included in the cost of tour price.
Airfare;
Visa and passport fees (if applicable);
Travel insurance;
Soft drinks and alcoholic beverages other than those for special events and celebrations;
Personal expenses such as laundry and telecommunication charges;
Staff gratuities.
Day 1

Arrive Edinburgh, Scotland - Overnight

Welcome to Edinburgh, the capital of Scotland and starting point of our expedition. To provide you with more time to enjoy this metropolis rich in history and culture, we've arranged pre-cruise hotel accommodations. Relax and take a stroll through town, enjoying both medieval and classic 18th-century architecture. The famous Edinburgh Castle rises majestically above it all.

NOTE: We recommend arriving at least one day prior in order to avoid complications associated with flight delays. We have Pre- and Post-cruise programs designed to complement the cruise.

 

Day 2

Embarkation in Edinburgh, Scotland

Enjoy the morning and early afternoon at leisure. Each corner of Edinburgh's old streets opens beautiful unexpected vistas of green hills or a blue flash of the distant sea. In the afternoon, you will be transferred from the hotel to the ship in the nearby Port of Leith. Before dinner, there's time to explore the Sea Spirit, your home-away-from home for the next days.

Day 3

Kirkwall, Orkney Isles

Kirkwall is a small, quiet town, with a gentle pace of life. The town is the capital of the remote and amazing Orkney archipelago. Kirkwall is first mentioned in Orkneyinga saga in 1046. Such a long history has left a rich heritage that we explore today. The most famous are the sandstone St Magnus Cathedral, considered the finest medieval building in the north of Scotland, the Bishop's Palace and the Earl's Palace.

Included tour "Ancient treasures of Orkney with St Magnus Cathedral." Depart Kirkwall and head into the west of Mainland, Orkney's largest island. This tour passes through the gentle rolling landscape of Orkney and into the Neolithic Heartland of Orkney; an area designated as a World Heritage Site due to its wealth of pre-historic archaeology. Passing the Standing Stones of Stenness, we will stop at the Ring of Brodgar; a huge ceremonial circle of stones dating back almost 5000 years. We then continue on to the 5000-year-old village of Skara Brae, beautifully interpreted in the visitor center. See the remarkable dwellings revealed from beneath the sand dunes by storms only 150 years ago.

Hear some of the stories from your guide today en route back to Kirkwall. Once back in the island capital we will take a tour of St Magnus Cathedral, built by the Vikings during their 500 year reign over the islands.

Day 4

Fair Isle, Shetland Islands

On Fair Isle—an isolated island of rolling moorlands and rugged coastlines—one is easily enchanted by historic crofts, picturesque lighthouses, and friendly locals.The island is famous among birders for its abundance of British birds and for its numerous records of eastern rarities and migrants. Fair Isle is also one of Europe's best places to watch seabirds, especially puffins, at close range. Additionally, the island is notable for the abundance and diversity of its wildflowers. Seals are also commonly seen in its bays. Finally, during our visit it will be possible to see and purchase articles hand-knitted in the intricate and distinctive style for which Fair Isle has been celebrated for hundreds of years.

Day 5

Lerwick, Shetland Islands

We come alongside at the port of Lerwick; on Mainland, the largest of the Shetland Islands. On a walking tour of this historic town we visit the award-winning Shetland Museum to learn all about Shetland's fascinating heritage and culture. From here we take a scenic overland coach ride through the fertile countryside of Dunrossness to discover Shetland's best destinations. Birders will relish the opportunity to visit the historic lighthouse at Sumburgh Head, the southernmost point of Mainland Shetland. These rugged cliffs attract thousands of seabirds and the grassy slopes above are particularly great for enjoying close encounters with puffins amongst beautiful wildflowers. Also on the itinerary is Jarlshof, one of the most remarkable archaeological sites in the British Isles. Here we discover beautifully preserved stone structures spanning 5,000 years of human settlement, including Bronze Age oval houses, Pictish wheelhouses, an Iron Age broch, a Viking longhouse and a mediaeval farmhouse.

Day 6

Papa Stours & Foula Islands

Lost in the Atlantic Ocean, Foula, one of the Shetland Islands, is a perfect destination for birdwatching. Foula cliffs are home to numerous seabirds, including the largest colony of great skuas in Great Britain. However, birds are not the only treasure of the island. Foula is rich with folklore and history.

Another item on our bucket list today is Papa Stour, another island, which forms part of the Shetland islands.

Erosion of Papa Stour's soft volcanic rocks has sculptured an extraordinary cliff scenery including a variety of caves, stacks, arches and blowholes, all supporting a range of marine flora and fauna.

Days 7-10

Faroe Islands

National Geographic Traveler had designated Faroe Islands as "authentic, unspoiled and likely to remain so". It seems that the Nature spares no colors in "painting" the islands. Deep-green hills, bright blue sea, colorful houses and boats, orange-red puffins' beaks make the sceneries unforgettable, meanwhile traditional wooden dwellings with turf roofs look like they belong in a fairy tale.

The rugged Faroese are proud of their Viking heritage and their love of the sea. We will explore the archipelago including Tórshavn, the capital and largest city of Faroe Islands. This would include a visit to Kirkjubøur, the ecclesiastical and cultural center of the Faroes in the Middle Ages. It was the site of the Bishop's residence until the Reformation, when the Faroese diocese was abolished. The imposing Gothic ruin of the late 13th-century Saint Magnus Cathedral still dominates the site. The Roykstovan, standing on the wide, stone foundation of a portion of the Bishop's palace, has been the home of farmers in Kirkjubøur for centuries and occupied by the same Faroese family for 17 generations.

Our expedition team will search for remote areas of the archipelago to visit or pause, where we can take advantage of the ship and possibly Zodiacs to see bird cliffs and other natural wonders that are otherwise difficult to access.

Day 11

Day at Sea

Do not lose your time aboard! Learn more about the unique flora and fauna of the British Isles. Become a real expert in no time with our onboard lectures and briefings!

Day 12

Disembarkation in Leith (Edinburgh), Scotland

After breakfast on board Sea Spirit we say farewell in Leith, Edinburgh's vibrant port district. We provide transfers to the airport or to Edinburgh city center if you wish to spend more time in the wonderful capital of Scotland.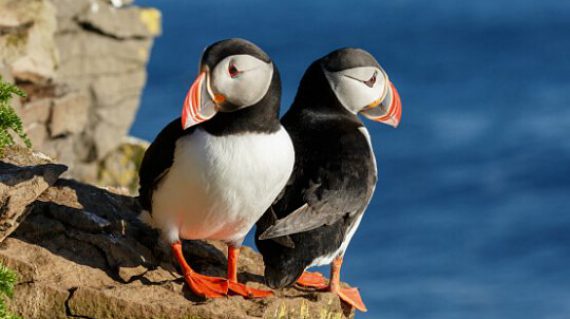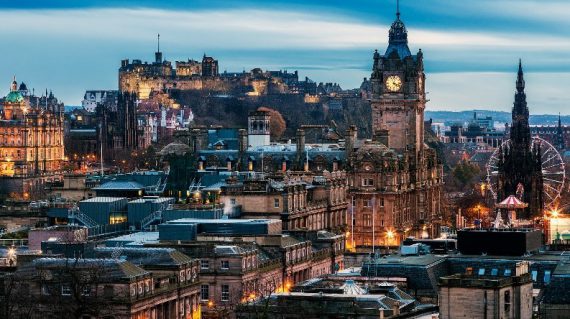 Sea Spirit
Introducing the Sea Spirit, formerly the Spirit of Oceanus – Sailing in grand style with all the amenities of a luxury hotel.
Providing spacious suites for accommodation of 116 passengers the Sea Spirit at the same time features maneuverability and friendly atmosphere of small ships. The vessel has an ice-strengthened hull, a fleet of Zodiacs, and a set of retractable fin stabilizers for smoother sailing.
Explore the Polar Regions in style and comfort aboard the all-suite Sea Spirit. Providing spacious suites and social areas for 116 guests the Sea Spirit at the same time features maneuverability and friendly atmosphere of small ships.
Public areas include: Reception, Restaurant, Bar, Outdoor Bistro, Club Lounge, Library, Presentation Lounge, Infirmary, Gym, Bridge.
We have open Bridge policy. Talk to the Captain and officers. Watch landscapes from this special angle of view. Fix your location at a map of your expedition.
Fast Facts
Dare Launched/Rebuilt: 1992/2006
Length: 297 ft
Beam: 50 ft
Draft: 13.5 ft
Tonnage: 4954 t
Cruise Speed: 12 knots
Total Staff: 72
Passenger Capacity: 116
Registry: Bahamas
Onboard Amenities
Restaurant
The Restaurant on board the Sea Spirit offers open-seating dining, which means there are no assigned tables. Contemporary, international cuisine is created by our talented chefs.
Bar
After a day of explorations passengers may relax at a Bar staffed by a professional bartender. With a wide variety of alcoholic and non-alcoholic drinks and engaging conversation, the bar on board this small luxury ship welcomes guests to mix and mingle.
Presentation Lounge
The Presentation Lounge with state-of-the-art equipment is where all lectures, briefings and social gatherings take place. Attend informative lectures, recaps and briefings, and enjoy views outside.
Club Lounge
Club Lounge provides great opportunities for socializing and observing fantastic landscapes passing by. This comfortable seating area also offers a 24-hour self-service coffee and tea bar.
Library
The Library is a quiet cozy place for reading and relaxation. It has an extensive selection of polar books and DVDs, magazines, reference materials and newspapers.
Gym
Well-equipped Gym allows travelers not to break away from regular sports for the time of a trip. The Gym is open daily and offers stationary bikes, several treadmills, and some multi-functional training machines.
Reception
Should you have a question or require any service be sure to visit the Reception area. Our experts can provide invaluable information to help you get the most out of your cruise.
DECK PLANS and CABINS
All accommodations are air-conditioned and fitted with TV, telephone, hairdryers, mini-fridge, central music, and public address system and safe boxes. The fully equipped bathrooms are finished with marble.
CABINS
OWNER'S SUITE: Ocean view suite boasting sweeping views, interior entrance, a private terrace, a complimentary minibar (restocked daily), one queen bed and one sofa bed, sitting area, in-room safe, (Deck 6)
PREMIUM SUITE: Ocean view stateroom with direct access to their private balcony. Added amenities include: two twin or one queen bed, armoire, minibar, evening canapés, complimentary laundry service, and the services of a dedicated butler, fresh fruit upon arrival (Deck 6)
DELUXE SUITE: Ocean view stateroom with direct access to their private balcony, two twin or one queen bed (Deck 5)
SUPERIOR SUITE:Ocean view stateroom  with large pictures window(s), sweeping views, two twin or one queen bed (Deck 4)
CLASSIC SUITE: Ocean view stateroom with large pictures window(s), two twin or one queen bed (Deck 3)
MAIN DECK SUITE: Large ocean view stateroom with portholes, two twin or one queen bed (Deck 2)
TRIPLE CLASSIC SUITE: Ocean view stateroom with large pictures window(s), Three twin beds, or one Queen and one twin. (Deck 3).