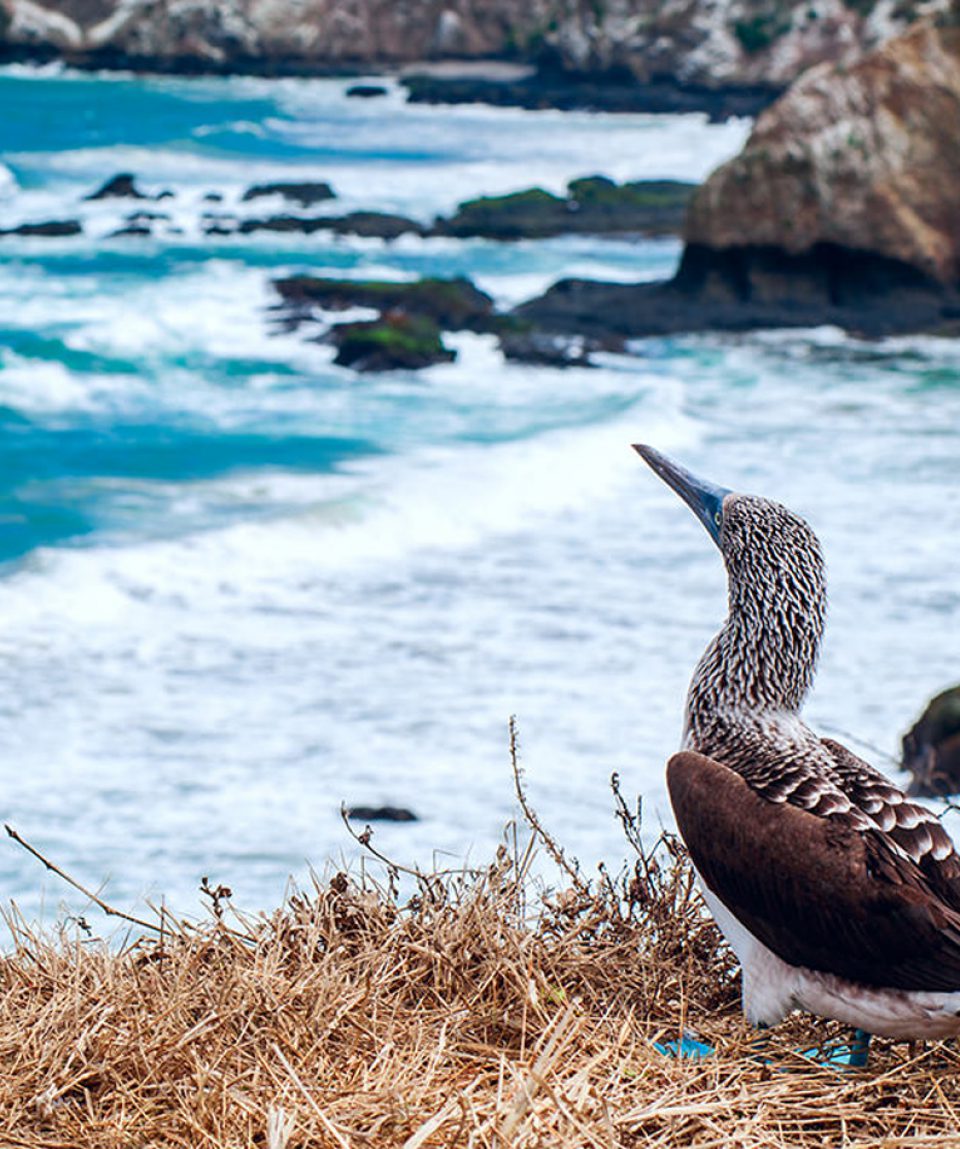 FT. LAUDERDALE TO LIMA, PERU
DATE: OCT. 10-30, 2019
DURATION: 21 DAYS/20 NIGHTS – 26 DAYS/25 NIGHTS with Machu Picchu Tour
EMBARK: FT. LAUDERDALE, FL
DISEMBARK: LIMA, PERU
SHIP: Silver Cloud Expedition
FROM: $10,980  –   $13,555  With Machu Picchu Tour
6-DAY Tour to Machu Picchu available in Peru – $2,575 per person
All about the FT. LAUDERDALE TO LIMA, PERU.
Enjoy America's Tropics – Immerse yourself in Caribbean and South American nature and culture, all thanks to the connection created by the Panama Canal. This incredible voyage will leave from Fort Lauderdale, Florida, USA and transport us immediately to the paradise offered by Harbour and Provencia Islands. After crossing the Panama Canal, go birding at magical Isla de la Plata in Ecuador (compared to the Galapagos Islands for its wildlife). Explore ancient ruins in Peru at the Temples of the Sun and Moon to learn about Moche culture. Hike Costa Rica's Manuel Antonio National Park to view rare flora and fauna, as well as one of three other national reserves in Machala, Ecuador. This voyage is a birdwatcher's dream, with over 20 species endemic and visible in these regions, including Blue- and Red-footed Boobies, toucans, and egrets, kingbirds, and Magnificent Frigatebirds, among many others. Go snorkelling to visit the diverse sea life at Conception Island, Providencia, San Andres and Isla de la Plata. Throughout the voyage, learn about the history, geology, wildlife and botany of these locations from lecture presentations offered by your knowledgeable onboard Expedition Team.
Voyage Highlights:
Pre-Cruise Transfers and Hotel in Ft. Lauderdale
Harbour Island, Bahamas – 
Harbour Island charms every visitor, with its colorful Colonial houses and wild horses occasionally spotted running along the serene beaches. The unusual Harbour Island beaches are known for their pink sands. The pink color actually comes from a microscopic organism (foraminifera) with a reddish-pink shell, and looks stunning against the azure blues of the Bahamian waters.
Providencia Island, Columbia – 
Providencia Island boasts hike-worthy views and a stunningly bright blue lagoon noted for the vibrancy of its waters even on a cloudy day. It is a Columbian island with a distinctly Caribbean atmosphere, yet the residents of this special destination speak predominantly English and an English-based Creole.
Panama Canal, Panama – 
In daylight we will traverse the 48-mile Panama Canal, a manmade waterway that connects the Atlantic and Pacific Oceans, and one of the most challenging engineering projects ever undertaken.
Manuel Antonio National Park, Costa Rica – 
Visit Manuel Antonio, Costa Rica's emblematic national park and a crucial wildlife sanctuary, home to many of Costa Rica's endangered species. While this is Costa Rica's "smallest" national park, it spans 1,700 acres of land and 136,000 acres of ocean! The site is known for its wildlife-rich hiking trails and gorgeous white sand beaches.
Isla de la Plata, Ecuador –
Spend time on Isla de la Plata, or the Island of Silver, where legend says that hundreds of tons of silver and gold were hidden and never recovered by Sir Francis Drake. Hike across the spectacular island, compared to the Galapagos Islands for its fauna, making it ideal for bird-watching and snorkelling.
Cultural Highlight:
• Visit the archaeological remains of the Huaca of the Sun and Huaca of the Moon, scaled temples built by the Moche civilization of northern Peru in approximately 500 AD.
• Learn about the Moche culture through the rich iconography and monumental architecture that remain.
Wildlife Watch List:
• Toucans, Black-necked Stilt , Cattle and Great Egrets, Turkey and Black Vulture, Tropical Kingbird, Lemon-rumped, Blue-grey, White-shouldered, Beryl-spangled and Palm Tanager, Rufous-tailed and Violet-bellied Hummingbird, White-necked Jacobin, Long-tailed Mockingbird, Rufous Motmot, Chestnut-mandibled Toucan, Long-wattled Umbrellabird, Ornate, Boat-billed and Olive-striped Flycatcher, White-bearded Manakin
• Magnificent Frigatebirds, Brown Pelicans, Brown, Blue-footed, Red-footed and Nazca Boobies, Red-billed Tropicbirds
• Sloths, dart frogs, spider and howler monkeys
Expedition highlights and wildlife listed here are possible experiences only and cannot be guaranteed. Your Expedition Leader and Captain will work together to ensure opportunities for adventure and exploration are the best possible, taking into account the prevailing weather and wildlife activity.
Add a wonderful, 5-Star tour to Cusco, the Sacred Valley and Machu Picchu from Lima!
The tour package inclusions and exclusions at a glance
What is included in this tour?
Items that are included in the cost of tour price.
Transfers and pre-cruise hotel in Ft. Lauderdale
Free Economy air, reduced Business Class air, or $2,000 per person credit
All meals aboard ship, and as indicated on land tours
Beverages, open bar, beer, wine, liquor
Room service
Butler service
All excursions
Expedition leaders and guest speakers
Gratuities to ship crew and tour guides
Unlimited Free Internet
Whats not included in this tour.
Items that are not included in the cost of tour price.
Pre- and Post-cruise tours
Travel Insurance
Air Fare (Unless Unless using Free Air)
Day 1

ARRIVE FT. LAUDERDALE

DAY 1 – THU – OCT. 10 – ARRIVE FT. LAUDERDALE, FL

Transfer to your included deluxe hotel near the port. Explore the city, beaches.

 

Day 2

Ft Lauderdale - Embarkation

Like many southeast Florida neighbors, Fort Lauderdale has long been revitalizing. In a state where gaudy tourist zones often stand aloof from workaday downtowns, Fort Lauderdale exhibits consistency at both ends of the 2-mile Las Olas corridor. The sparkling look results from upgrades both downtown and on the beachfront. Matching the downtown's innovative arts district, cafés, and boutiques is an equally inventive beach area, with hotels, cafés, and shops facing an undeveloped shoreline, and new resort-style hotels replacing faded icons of yesteryear.

This afternoon, transfer to your ship for embarkation. Ship departs at 5 PM. Attend mandatory safety drill and introductions.

Day 3

HARBOUR ISLAND, BAHAMAS

Harbour Island is a small slip of island, extending three miles from north to south and less than half a mile wide. The island at the northern tip of the much larger Eleuthera Island. Despite its small size it has about 1,700 residents and one incorporated town, Dunmore Town, named after the governor of the Bahamas John Murray, the 4th Earl of Dunmore (1785 to 1798 governorship). The island is known for its pink sand beaches – the pink comes from a microscopic organism (foraminifera) with a reddish-pink shell.

 

Day 4

CONCEPTION ISLAND, BAHAMAS

Conception Island is an uninhabited island in the Bahamas, and a protected Bahamas National Land and Sea Park. The approximately 3 square-mile island is pristine, with idyllic powder white beaches and crystal-clear water. Conception island is an important nesting location for seabirds and a hatching site for green sea turtles. Snorkelers and divers will see a wide array of tropical fish, among them Queen Anglefish, Nassau Groupers, Rainbow Parrotfish and Blue Tangs. Lucky visitors may get to see wild dolphin that frequent the area at times.

Days 5-6

AT SEA

Located on the Pembroke Peninsula of Wales amidst long stretches of sandy beaches and stunning coastal scenery, this historic valley settlement features a number of timeless buildings centered along its quaint Main Street that runs inside the original walls of the town. The municipality itself is surrounded by residential estates, farmland and woods along the estuary of the River Cleddau. Pembroke's rich history dates back to the 11th century when the namesake was little more than a timber fortification on the banks of the Pembroke River.

The cliffs of small Skomer Island off the southwest coast of Wales are accessible only by boat. Skomer has a large population of breeding seabirds.

Day 7

PROVIDENCIA ISLAND, COLOMBIA

The San Andres and Providencia archipelago comprises Colombia's Caribbean islands, lying some 290 miles north of the South American coast.

Day 8

SAN ANDRES ISLAND, COLOMBIA

Palm-dotted San Andres is only eight miles long and two miles wide. It is noted for beautiful sand beaches, crystal-clear waters and good diving sites. At one time the island belonged to Britain and, according to local lore; it was a favorite hideout for the legendary pirate Henry Morgan. In 1822, San Andres came under the control of Colombia. In recent years the original population has greatly increased due to unrestricted immigration from the mainland.

Day 9

BOCAS DEL TORO, PANAMA

Translated as Mouths of the Bull, Bocas del Toro is both a province and an archipelago in the northwest Caribbean Sea in Panama. The archipelago contains 10 larger islands (including the main Isla Colon, where the town of Bocas del Toro is situated), 50 cays and 200 tiny islets. The region contains Isla Bastimentos National Marine Park, Panama's first national marine park that covers over 32,000 acres and protects forests, mangroves, monkeys, sloths, caiman, crocodile and 28 species of amphibians and reptiles. The park also contains Playa Larga, an important nesting site for sea turtles.

Day 10

COLON, PANAMA

The provincial capital of Colón, beside the canal's Atlantic entrance, is named for the Spanish-language surname of Christopher Columbus, though the Americans called it Aspinwall in the 19th century. It was once a prosperous city, as the architecture of its older buildings attests, but it spent the second half of the 20th century in steady decay. Though the 21st century brought relief to the city's chronic unemployment problems, much of it remains a slum, and crime is endemic.

Day 11

PANAMA CANAL TRANSIT

The Panama Canal bisects the country just to the west of Panama City, which enjoys excellent views of the monumental waterway. Between the canal and the rain forest that covers its islands, banks, and adjacent national parks, there is enough to see and do to fill several days. Central Panama stretches out from the canal across three provinces and into two oceans to comprise everything from the mountains of the Cordillera Central to the west, to the Caribbean coral reefs and colonial fortresses in the north, to the beaches of the Pearl Islands in the Bahía de Panamá (Bay of Panama) in the south.

Day 13

QUEPOS - MANUEL ANTONIO PARK

Quepos allows tourists to experience a once in a lifetime nature experience in Manuel Antonio National Park without leaving any of the familiar amenities behind. The close proximity of the park, located just 4.3 miles (7 km) to the south, and a wide array of services makes Quepos the perfect place to visit for those who wish to explore this enchanting area. The amenities available include everything from banks, restaurants, hotels, gift shops, bakeries, bars, a hospital, supermarket and even a post office.

Day 14

GOLFITO, COSTA RICA

Golfito, is situated along a small inlet of Golfo Dulce. This small port city is a narrow strip along Golfito Bay backed against steep green hills covered with pristine rainforest, with the Golfo Dulce seaward outside Golfito Bay. Surrounded by tropical rainforest, Golfito provides an ideal location to escape from your hectic schedule and enjoy some of the most beautiful beaches in Costa Rica with a stunning backdrop of verdant hills and lush rainforest.

Day 16

ISLA DE LA PLATA, ECUADOR

Isla de la Plata translates to 'Island of Silver', and the name was derived from the legend of swashbuckling pirate Sir Francis Drake's buried silver treasure. The popular legend states that in the 16th century, hundreds of tons of silver and gold were never fully recovered and are still hidden on the island. The island was privately owned until 1979, when it was declared part of Ecuador's Machalilla National Park. Best known for its fauna, which is amazingly similar to that of the Galapagos Islands, Isla de la Plata is a delightful place for birding, photography and long nature walks.

Day 17

MACHALA, ECUADOR

Several National Sanctuaries and Ecological Reserves found near Machala boast sun-drenched beaches and mangrove forests. Pelicans, frigatebirds, and egrets nest nearby as Blue-footed Boobies dive for fish further out to sea. Whales and dolphins can occasionally be seen in the vicinity. Machala, with a population of approximately 250,000 inhabitants, is moreover known for traditional Latin American foods from shrimp ceviche to fried bananas. In fact, bananas feature heavily in the culture as the city is also known as the "Capital of the Banana".

Day 19

ISLA LOS LOBOS DE TIERRA, PERU

Isla Lobos de Tierra and Lobos de Afuera are steep and rocky islands that protrude more than 200 feet from the surface of the deep blue Pacific. An abundant array of marine mammals and seabirds surround these two islands. Sea lions bask on the beach and hundreds of Blue-footed Boobies can be viewed ashore as well, while Peruvian Pelicans pass overhead. Lucky visitors may see the rare blue whale pass by these islands.

Day 20

TRUJILLO, PERU

Located about nine hours north of Lima, Trujillo was founded in 1534 by the Spanish conquistador Pizarro. The attractive, colonial city retains much of its original charm with elegant casonas, or mansions, lining the streets. Nearby is Chan Chan, the ancient capital of the Chimú, a local Indian tribe who came under the rule of the Incas. The area has several other Chimú sites, some dating back about 1500 years. The region is also famous as the home of the Peruvian Paso horses, as well as excellent beaches offering world-class surfing and other water sports.

Day 21

LIMA (CALLAO), PERU - DISEMBARK - CONTINUE TO CUSCO

When people discuss great South American cities, Lima is often overlooked. But Peru's capital can hold its own against its neighbors. It has an oceanfront setting, colonial-era splendor, sophisticated dining, and nonstop nightlife.

END OF CRUISE ONLY

Transfer to airport for flight home – OR to Cusco to begin your Inca Exploration.

Meeting Service at the Callao Port and transfer to the airport. Flight to Cusco (included). Arrival, meet and transfer to your 5-Star hotel in the Sacred Valley. We will continue the trip toward the Sacred Valley and soon reach Pisac, a beautiful place where Incan and Colonial influences have reached a perfect balance and created the unique way of life of the local inhabitants. We will get a chance to explore this quaint town, famous for its artisan markets where we can find extraordinarily fine jewelry and ceramic and textile craftwork.

Day 22

Visit to Moray, Maras & Ollantaytambo + LUNCH

This morning, we will continue the trip toward the archaeological site of Moray. Used as an agricultural testing ground, the site's system of circular terraces descends 490 feet (150m) from where we will stand, serving as a perfect testament to the level of advancement achieved by the Incas, who excelled at building masterful constructions in harmony with nature.

The journey will continue on until we reach the Salt Pans of Maras. The sight of this still-operating salt mine, in use since Incan times, will amaze you the stark white of the steeply descending salt pans juxtaposed against the green of the surrounding mountain slopes.

Finally, we will visit one of the last remaining Incan towns, Ollantaytambo, which was once fiercely guarded by a massive fortress. We will discover the large archaeological complex of what used to serve as a wayside inn for royal delegations on long journeys. Surviving structures here include multiple walls and towers that were used to protect the citadel from possible invasions.

Buffet lunch at Tunupa Restaurant
Overnight in the Sacred Valley

B / L

Day 23

Historic Sanctuary of Machu Picchu

This day, we will visit the Santuario Histórico de Machu Picchu (Historic Sanctuary of Machu Picchu). Aboard a comfortable train (Vistadome service), we will to the Aguas Calientes train Station, enjoying a spectacular view along the way. Upon arrival, we will board a bus that will take us to the entrance gate of the Machu Picchu citadel.

Rediscovered by Hiram Bingham more than a century ago, Machu Picchu is considered one of the Seven Wonders of the World. Its architectural beauty, spectacular natural landscapes and the energy held in its enigmatic structures will take our breath away.

We will follow in the footsteps of the ancient Incas as we explore this magical citadel. 

Lunch, Dinner and Overnight in Machu Picchu.

B / L / D

Day 24

MACHU PICCHU / CUSCO

Morning free. Perhaps return to the Citadel to hike the iconic Huayna Picchu – the centerpiece of most photos. Huayna Picchu (aka Wayna Picchu or Wayna Pikchu), which means 'Young Peak' in Quechua, is the large mountain that sits directly behind Machu Picchu, and can been seen in all it's glory in the pictures.

For many trekkers, climbing Huayna Picchu is one of the highlights of a visit to Machu Picchu. The views of the Citadel and surrounding landscape are extraordinary from the top and well worth the climbing effort.

From a distance Huayna Picchu looks like a technical climbing endeavour, but is in fact just a steep hike with some sections that will require the use of both hands and feet to scramble upwards, but no technical skills or climbing tools. There are sections that include railings and cables for support.

At the scheduled time, you will be taken to the Aguas Calientes train Station to board the return train (Vistadome service). Upon the arrival at the station, our private transfer service will be waiting to take us to our hotel in the city.

B

Day 25

CUSCO TOUR

We will begin the tour with visit to the nearby Fortress of Sacsayhuaman, a colossal structure built with huge carved rocks jointed with absolute accuracy, this astounding sample of the Incan military architecture is, undoubtedly, the greatest architectonic work of the Tahuantinsuyo. But, in addition, it proves the undeniable firmness of the great administrative capacity of the empire and its powerful logistic system capable of mobilizing and organizing such a work.

We will continue the exploration of the Imperial City with a visit to the San Pedro Market, which being the city's main street market, will give you an opportunity to get to know the products of Cusco, overwhelming you with the sights, aromas, tastes, and colors of the region.

Next, we will head towards the Main Square, where we will visit the Cathedral and admire its exquisite vestibules and priceless paintings from the Cusco School of the 17th and 18th centuries.

We will complete the day with an exploration of the artistic and bohemian neighborhood of San Blas, home to many renowned artists. Through narrow, cobblestone streets, we arrive at the main plaza of San Blas, which is surrounded by many well-known artisan workshops, such as Mendívil, Olave, and Mérida, among others. We will take our time to visit some workshops and contemplate the artist's works. Next, we will continue to the San Blas Church, built in 1563 on top of an Inca Sanctuary. The church is a simple structure, famous for its beautiful pulpit that is carved from one single cedar tree – representing one of the most exquisite works of wood carving in the Spanish churrigueresque style done by indigenous hands.

B

Day 26

DEPARTURE HOME

Transfer to Cusco's airport. Flight to Lima (Not included – Your return flight home should originate at Cusco in order to be able to check your luggage to your final destination.) and connect with your International flight home. B
After extensive refurbishment, Silver Cloud is the most spacious and comfortable ice class vessel in expedition cruising. Her large suites, her destination itineraries and her unparalleled service make her truly special. Her four dining options will tantalise your taste buds and as 80% of her suites include a veranda, watching a breaching whale or a few cavorting penguins has never been so personal. Broad sweeping decks with multiple open spaces and a swimming pool complete what is surely the most distinctive expedition ship sailing today. A limited number of guests in polar waters, mean that Silver Cloud has the highest space to guest and crew to guest ratios in expedition cruising. With her 16 zodiacs, 10 kayaks, possibilities are almost limitless with ship-wide simultaneous explorations. Finally, a team of up to 22 passionate and dedicated expedition experts are always at hand to ensure your voyage is enhanced every step of the way.
GUESTS: 254
CREW: 223
LENGTH: 514.14 Feet / 156.7 Meters
SUITES
Silversea's oceanview suites are some of the most spacious in cruising, and all include the services of a butler. Select your suite and Request a Quote – guests who book early are rewarded with the best fares and ability to select their desired suite.
Owner's Suite
This stylish apartment offers the superlative in levels of space, comfort and service on board. A perfect mix of expedition experience with luxury lifestyle. Available as a one-bedroom configuration or as two bedroom by adjoining with a Vista Suite.
Grand Suite
Expertly designed and exquisitely appointed. The ideal space for sharing stories with fellow explorers and new friends. With enough space to roam both in and outside, this suite is perfect relaxing and recounting the highlights of your day. Available as a one-bedroom configuration or as two-bedroom by adjoining with a Veranda Suite.
Royal Suite
Stately. Commanding and majestic. Perfect for relaxing after a days' exploring and looking through your photos. With lectures being streamed live to your room, this is the pinnacle of good living at sea. Available as a one-bedroom configuration or as two-bedroom by adjoining with a Veranda Suite.
Silver Suite
Stylish and sophisticated with larger verandas, excellent for taking pictures and bird-watching. Situated midship, this suite is perfection in design and comfortable living. A huge walk in wardrobe, a beautiful marbled bathroom and a spacious living area completes the picture. Silver Suites accommodate three guests.
Medallion Suite
With a room configuration that favors watching the sun rise from the comfort of your bed and losing yourself in the mesmerizing seascapes, this suite is the perfect answer to adventure cruising. A large walk-in wardrobe, and an expansive living make the Medallion Suite a your home away from home on the high seas. Medallion Suites accommodate three guests.
Deluxe Veranda Suite
A Silversea signature, with a preferred central location, the Veranda Suite is spacious and welcoming.Floor-to-ceiling glass doors open onto a furnished private teak veranda from where you can contemplate anything from the midnight sun to an antarctic sunrise. The Deluxe Veranda Suite offers preferred central location with identical accommodation to a Veranda Suite.
Veranda Suite
A Silversea signature, the Veranda Suite is spacious and welcoming. Floor-to-ceiling glass doors open onto a furnished private teak veranda from where you can contemplate anything from the midnight sun to an antarctic sunrise. Some Veranda Suites accommodate three guests (Suites going from 505 to 510, and from 605 to 610).
Vista Suite
Your home away from home while you embrace the intrepid explorer within. The suite's seating area has plenty of room to relax while you go over your notes, ready for the next adventure. Large picture windows frame panoramic ocean views, ideal for appraising the local wildlife.
RESTAURANTS
Discover our collection of onboard venues where you'll enjoy spending time with like-minded travellers and of course, our personalized all-inclusive service.
HOTELS ON MACHU PICCHU TOUR
SACRED VALLEY
Inkaterra Hacienda Urubamba
Inkaterra Hacienda Urubamba is a contemporary hacienda-style hotel in the Sacred Valley of the Incas, in-between Cusco and Machu Picchu. Immersed in the countryside in a gorgeous area, Inkaterra Hacienda Urubamba spans approximately 100 acres surrounded by imposing green mountains.
All rooms in the Casa Hacienda and stand-alone luxury casitas feature breathtaking views of the valley, immersing guests in open space, serenity and relaxing solitude. Architecture and interiors are inspired on the area's cultural history, with colonial furniture, authentic Inca masks and handcrafted woodwork that add to the hacienda's local charm.
An Earth to Table concept is operated with a 10-acre organic plantation where guests are welcome to pick their own produce. Carbon-free crops such as quinoa, Urubamba giant corn, medicinal herbs and a variety of potatoes are farmed with traditional hand tools and oxen, as done centuries ago.
MACHU PICCHU – AGUA CALIENTE
INKATERRA MACHU PICCHU PUEBLO HOTEL
Popular with those heading to the ancient citadel of Machu Picchu, Inkaterra Machu Picchu Pueblo Hotel is an intimate Andean village with terraced hills, waterfalls, stone pathways and 83 whitewashed adobe casitas tucked away in the cloud forest. Member of National Geographic Unique Lodges of the World, the property has 12 acres of exquisite natural beauty, where 214 bird species – such as the golden-headed quetzal and the iconic Andean cock-of-the-rock – and the world's largest native orchid collection (372 species) have been registered.
After exploring the Historic Sanctuary and in-house excursions, guests can enjoy the Unu Spa, which combines the classic nurturing with a mystical Andean approach. Natural products are derived from local botanical extracts (mint, eucalyptus and orchids), thus providing a pleasing spiritual, sensual and soothing experience. The first-class restaurant features stunning views of Vilcanota River, and shares the secrets of Peruvian cuisine with a contemporary twist.
CUSCO
JW Marriott El Convento Cusco
Savor timeless luxury at JW Marriott El Convento Cusco. Our boutique hotel in Peru offers a truly unique blend of historic grandeur and modern comfort. Housed in a restored 16th-century convent in the heart of Cusco, we feature two exhibition halls with ancient Peruvian artifacts. During your stay, find sanctuary in our sophisticated rooms and suites that offer a range of amenities including elegant marble bathrooms, deluxe bedding, mini-bars and an oxygen-enriched system to relieve altitude sickness. Awake renewed in your heavenly abode before a day filled with replenishing spa treatments that feature centuries-old Incan healing regimens. After a blissful pampering session, enjoy elegance and fresh ingredients at the extraordinary Qespi Restaurant & Bar, widely considered to be one of the best restaurants in Cusco. Ready for adventure? Head out to the Historic Center of the City of Cusco and Plaza de Armas, both nearby. Discover the difference when reserving accommodations at JW Marriott El Convento Cusco.