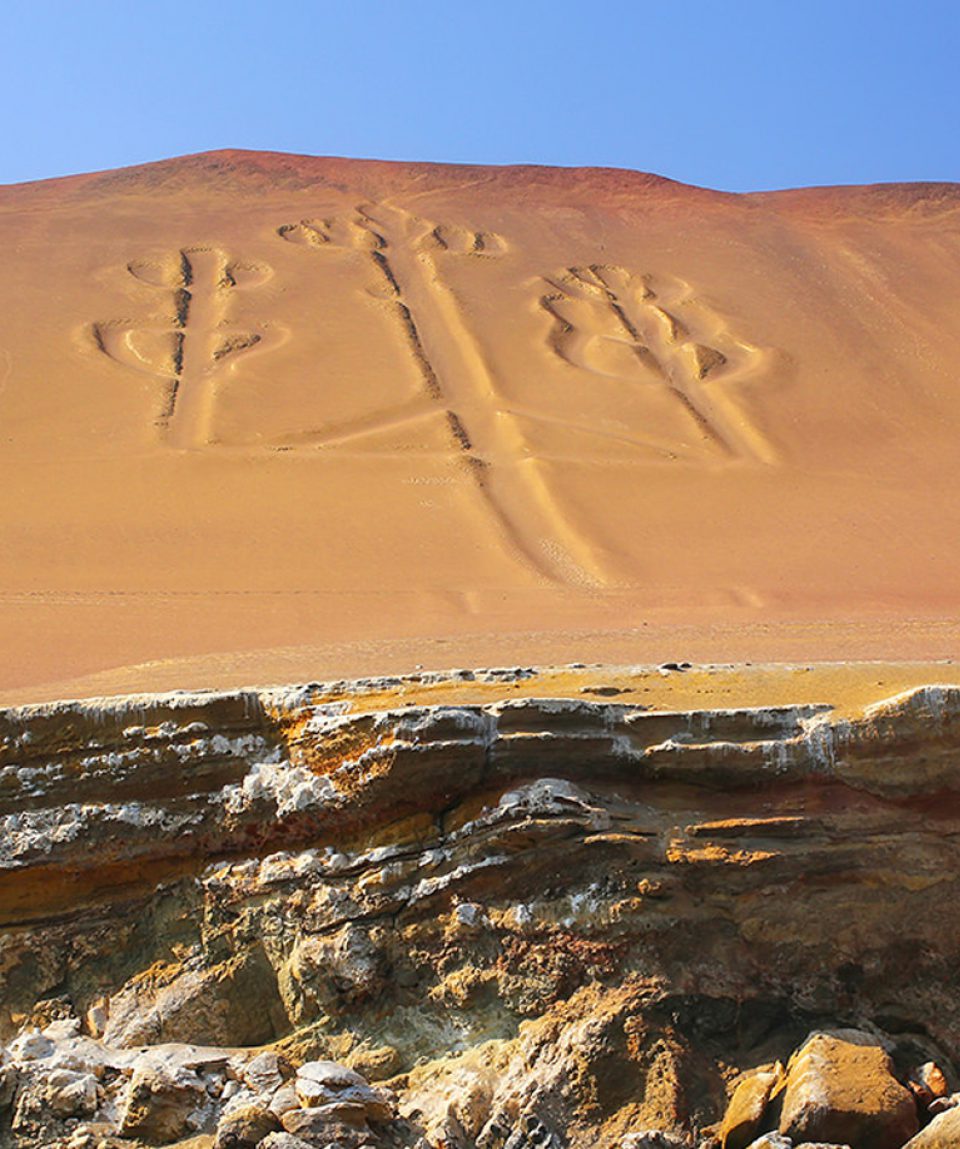 SOUTH AMERICAN – EXPEDITION CRUISE – AROUND THE HORN – LIMA, PERU TO BUENOS AIRES, ARGENTINA
DATE: OCT. 29-NOV. 24, 2019
DURATION: 27 DAYS/26 NIGHTS
EMBARK: LIMA, PERU
DISEMBARK: BUENOS AIRES, ARGENTINA
SHIP: Silver Cloud Expedition
FROM: $15,750* 
*After 10% Early Booking Savings
 *SAVE 10% – Book and pay by April 30, 2019
Free Economy air, reduced Business Class Airfare, or $1,500 cruise credit available.
Pre- and Post-Cruise tours are available.


All about the SOUTH AMERICAN – EXPEDITION CRUISE – AROUND THE HORN – LIMA, PERU TO BUENOS AIRES, ARGENTINA.
Join us for a once-in-a-lifetime journey along the mythic and mysterious coastline of Peru, Chile and Argentina. You will get a bird's-eye view of the Nazca Lines, the mysterious and ancient geoglyphs located in Peru's Nazca Desert, and in Chile will have a chance to meet the Aymara people of the Altiplano in the village of Putre. Chile is the fifth largest exporter of wine and you will have the opportunity to visit picturesque vineyards in Chile's Norte Chico and Central Valley as well as find that perfect pairing for your palate. Then enjoy the breathtaking fjords and get an up-close look at the Pio XI Glacier, the biggest glacier in South America. Finally take a drive through Argentina's Valdes Peninsula, a listed World Heritage Site by UNESCO and home to a diverse array of marine wildlife, looking for orcas, sea lions and penguins. Throughout the voyage, learn about the history, geology, wildlife and botany of this spectacular area from lecture presentations offered by your knowledgeable onboard Expedition Team.
Voyage Highlights:
Paracas, Peru– 
Enjoy the miles of sandy coastline unique to this area while sampling Peruvian wines and "Pisco," a local beverage. Bird enthusiasts will be able to spot Guanay Cormorants, Peruvian Boobies, Inca Terns and possibly Chilean Flamingos. Those interested in mysterious geoglyphs can ponder the origins of "El Candelabro," which is over 500 feet in length and can be seen from miles away.
Pio XI Glacier, Chile –
This is the largest glacier in the southern hemisphere outside Antarctica! If conditions permit a Zodiac cruise, you will be awed by this glacier's giant front looming hundreds of feet into the air.
Valparaíso, Chile –
An important seaport and declared by Congress to be Chile's cultural capital, Valparaíso offers beautiful architecture along with delectable food and fine wine. Funiculares, cable cars dating back to the 19th century, permit to easily reach different parts of the historic district -a UNESCO World Heritage Site- for views across the port and bay.
Puerto Madryn, Argentina– 
One of the most vibrant cities in Patagonia and a perfect jumping-off point to explore the Valdez Peninsula, where you can observe sea lions, elephant seals, orcas and penguins in their natural habitat.
Isla Pingüino, Argentina – 
Visit the only Southern Rockhopper Penguin colony on the South American continent.
Cultural Highlights:
• Meet the Aymara people of Putre and learn about their history in the region. You will also be able to enjoy and buy some of their colourful textiles and handicrafts made from llama wool.
• Take part in a ceremony thanking Pachamama (Earth Mother) in the Atacama Desert.
• See the craftsmanship of the wooden churches of Chiloe, a UNESCO World Heritage Site.
• Experience a working sheep/cattle estancia in Patagonia and meet Baqueanos, the Chilean/Patagonian version of shepherds.
Wildlife Watch List:
• Southern elephant seals, South American fur seals, South American sea lions
• Whales and dolphins: Sei, humpback and Southern right whale, orcas, Peale's, Chilean, dusky and Commerson's dolphins
• Seabirds: Peruvian Booby, Neotropic, Red-legged, Guanay, Magellanic and Imperial Cormorant, Inca Terns, Peruvian Pelicans, Humboldt, Magellanic and Southern Rockhopper Penguins, Kelp, Brown-hooded and Dolphin Gulls, Southern Giant Petrels
• Land and water birds: Andean Condor, Peregrine Falcon, Chimango and Crested Caracara, Lesser Rhea, Flightless Steamer-Duck, Chilean Skua, Black-necked Swan, American Oystercatcher.
Expedition highlights and wildlife listed here are possible experiences only and cannot be guaranteed. Your Expedition Leader and Captain will work together to ensure opportunities for adventure and exploration are the best possible, taking into account the prevailing weather and wildlife activity.

The tour package inclusions and exclusions at a glance
What is included in this tour?
Items that are included in the cost of tour price.
Transfers, tour and one night pre-cruise hotel in Lima.
All meals aboard ship, and as indicated.
Beverages, open bar, beer, wine, liquor
Room service
Butler service
All excursions
Expedition leaders and guest speakers
Gratuities to ship crew.
Whats not included in this tour.
Items that are not included in the cost of tour price.
Pre- and Post-cruise tours
Travel Insurance
Air Fare (Unless Free Air is available)
Day 1

ARRIVE LIMA, PERU

Transfer to your included hotel.

Day 2

LIMA, PERU - EMBARKATION

When people discuss great South American cities, Lima is often overlooked. But Peru's capital can hold its own against its neighbors. It has an oceanfront setting, colonial-era splendor, sophisticated dining, and nonstop nightlife.

Explore Lima on an included tour before heading to the port of Callao to board the Silver Cloud.

Day 3

PARACAS, PERU

The port city of Paracas is blessed with magnificent natural beauty and rich historical importance, offerings inviting beaches, ideal weather and pleasant scenery — a combination that draws visitors throughout the year. The shores of the Paracas Peninsula and waters of the bay teem with wildlife and have been declared a national reserve. Condors frequently can be seen gliding on the sea winds or perched on the cliffs; pink flamingos often rest here on their migratory flights.

Day 4

AT SEA

Days at sea are the perfect opportunity to relax, unwind and catch up with what you've been meaning to do. So whether that is whale watching from the Observatory Lounge, writing home to your loved ones or simply topping up your tan by the pool, these blue sea days are the perfect balance to busy days spent exploring shore side.

Day 5

ARICA, CHILE

Arica boasts that it is "the land of the eternal spring," but its temperate climate and beaches are not the only reason to visit this small city. Relax for an hour or two on the Plaza 21 de Mayo. Walk to the pier and watch the pelicans and sea lions trail the fishing boats as the afternoon's catch comes in. Walk to the top of the Morro and imagine battles of days gone by, or wonder at the magnitude of modern shipping as Chilean goods leave the port below by container ship.

Day 7

ANTOFAGASTA, CHILE

Situated between the ocean and the mountains of the Coastal Range is Chile's largest city of the northern region. Antofagasta's role as port for the exportation of nitrate began in 1866. In 1872, when silver was discovered, the first municipality was established. Today, Antofagasta is still the centre of nitrate and copper mining, as well as an important hub for rail traffic to La Paz, Bolivia, and Salta, Argentina. According to the treaty signed after the War of the Pacific, much of Bolivia's international commerce transits through Antofagasta.

Day 8

ISLA PAN DE AZUCAR

The rugged shores of Isla Pan de Azucar (or Sugarloaf Island) are home to thousands of Humboldt Penguins. The penguins come to this arid island to breed and spend their days fishing, swimming and diving, as do many of the other birds found here. The waters around Isla Pan de Azucar also support Kelp Gulls, Blackish Oystercatchers, Peruvian Boobies, pelicans, sea lions and the reclusive South American marine otter.

Day 09

COQUIMBO, CHILE

The name Coquimbo is derived from a native Diaguita word meaning 'place of calm waters'. In fact, Charles Darwin had noted that the town was 'remarkable for nothing but its extreme quietness'. Since then, Coquimbo has developed into a bustling port and the region's major commercial and industrial centre from which minerals, fish products and fruits are exported. Used during the colonial period as a port for La Serena, Coquimbo attracted attention from English pirates, including Sir Francis Drake, who visited in 1578.

Day 10

VALPARAISO, CHILE

Valparaíso's dramatic topography—45 cerros, or hills, overlooking the ocean—requires the use of winding pathways and wooden ascensores (funiculars) to get up many of the grades. The slopes are covered by candy-color houses—there are almost no apartments in the city—most of which have exteriors of corrugated metal peeled from shipping containers decades ago. Valparaíso has served as Santiago's port for centuries. Before the Panama Canal opened, Valparaíso was the busiest port in South America.

Day 12

NIEBLA, CHILE

Niebla is a small village on the banks of the Rio Valdivia where Chile's Corral Bay meets the Pacific Ocean. Today Niebla is a beach resort, but in 1671 it was a defensive fortress built by the order of the Viceroy of Peru to prevent attacks against the town of Valdivia by pirates and corsairs. Niebla is well-known for its lively markets, the remains of the colonial fortress declared a National Monument in 1950 and restored in 1992, and a museum dedicated to its history.

Day 13

PUERTO MONTT, CHILE

For most of its history, windy Puerto Montt was the end of the line for just about everyone traveling in the Lake District. Now the Carretera Austral carries on southward, but for all intents and purposes Puerto Montt remains the region's last significant outpost, a provincial city that is the hub of local fishing, textile, and tourist activity.Today the city center is full of malls, condos, and office towers—it's the fastest-growing city in Chile—but away from downtown, Puerto Montt consists mainly of low clapboard houses perched above its bay, the Seno de Reloncaví.

Day 14

CASTRO, CHILE

Bright, wooden huts teeter on stilts over Castro's estuary waterfront, inviting you into a patchwork of colour that's sure to brighten any day. These traditional palafitos give the warmest of welcomes, as you prepare to experience Chile at its most vibrant. Castro has faced something of a tumultuous past, having been hit by a by a succession of earthquakes and fires – the most recent a devastating earthquake in 1960. But this city is incredibly resilient, and today the capital of Chiloe Island makes for a fantastic base for exploring the archipelago that surrounds it.

Day 16

TORTEL, CHILE

Tortel is a commune located in Southern Patagonia, a spectacular wilderness region of rugged mountains, glaciers, rivers and forests of infinite beauty. The uneven geography of Tortel shapes a unique landscape, characterized by an archipelagic area with numerous islands and channels. Tortel is known as the "footbridge city" for the unique beauty of its wooden walkways that connect the piers and houses of this quaint place through bridges and stairs, built from cypress wood, that run for four and a half miles around the cove and that respect the rich vegetation that grows under them.

Day 17

ENGLISH NARROWS – PIO XI GLACIER

The English Narrows warrant time spent on the outer decks as the Captain and local Chilean Pilots expertly maneuver through the slalom course of islands and channel markers. The waterway is home to Magellanic Diving Petrels, Steamer Ducks, and the rare endemic Chilean dolphin. This small dolphin is shy of ships and enjoys spending its time in constricted straits with heavy tidal rips such as the English Narrows.

The Pio XI Glacier is classified as a tidewater glacier, which means the river of ice starts in the high mountains and then courses downhill all the way to sea level where it slowly melts into the salty ocean bit-by-bit. The Pio XI Glacier is an offshoot of the South Patagonian Ice Field and approaching from the sea, the ice sprawls out in front of the ship in a wide band that reflects a remarkable shade of brilliant blue.

Days 18-19

CRUISE THE CHILEAN FJORDS

Winding through the vast expanses of the Chilean Fjords will reveal mountains looming on both sides, waterfalls, and the marvel of hardy flora clinging to barren rocks. Seals and dolphins patrol the length of these uninhabited fjords as they have done for millennia. Small fishing-boats come out of Punta Arenas luring fish and trapping for king crab, while terns dip and glide coaxing their own small fish out of the deep, dark fjord waters amongst tiny islands thick with vegetation.

Day 20

PUNTA ARENAS, CHILE

Impenetrable forests, impassable mountains, and endless fields of ice define Chilean Patagonia, and meant that the region went largely unexplored until the beginning of the 20th century. Located in the southernmost part of the country, this area is still sparsely inhabited, though you will find a few populated places—like the colorful provincial city of Punta Arenas, which looks like it's about to be swept into the Strait of Magellan. Some unique wildlife, particularly colonies of elephant seals and penguins, call this breathtaking topography home.

Day 22

PUERTO DESEADO - ISLA PINGUINO, ARGENTINA

Puerto Deseado (Port Desire) is a city and fishing port located along the estuary of the Deseado River in the Patagonia region of Argentina. The estuary is a natural reserve and was visited in 1833 by Darwin, who described the area as one of the most secluded places he had ever seen, a "rocky crevice in the wild plain." Puerto Deseado has a population of 15,000, with an economy based primarily on the fishing and tourism industries. Tourists come to Puerto Deseado mostly to view the estuary's diverse fauna.

Isla Pinguino (Penguin Island) is a tiny island less than a mile across located off the coastline of Santa Cruz province in Argentina. The island was previously known as an "island of the Kings" for ships traveling on their way to the Magellan Strait; from the 16th to the mid-19th century, sailors and travelers knew this location was a supply point of food. While several bird species live on this island, none are so numerous and distinctive as the southern rockhopper penguins, with their yellow-plumed eyes and squat stature.

Day 23

CAMARONES, ARGENTINA

Cute penguins waddle and skip in the waves that roll ashore near the sleepy, unspoiled town of Camarones. Life here is lived well and truly in the slow lane, but this fishing village has plenty of joy to offer intrepid visitors. 'Camarones' translates as 'prawns' and, as the name suggests, this is a great place for seafood – with the octopuses and clams that are scooped from the city's waters proving to be some of the most mouth-wateringly delicious available.

Day 24

PUERTO MADRYN, ARGENTINA

Approaching from Ruta 3, it's hard to believe that the horizon line of buildings perched just beyond the windswept dunes and badlands is the most successful of all coastal Patagonia settlements. But once you get past the outskirts of town and onto the wide coastal road known as the Rambla, the picture begins to change. Ranged along the clear and tranquil Golfo Nuevo are restaurants, cafés, dive shops, and hotels, all busy—but not yet overcrowded—with tourists from around the world.

Day 27

BUENOS AIRES, ARGENTINA

Glamorous and gritty, Buenos Aires is two cities in one. What makes Argentina's capital so fascinating is its dual heritage—part European, part Latin American. Plaza de Mayo resembles a grand square in Madrid, and the ornate Teatro Colón would not be out of place in Vienna. But you'll know you're in South America by the leather shoes for sale on cobbled streets and impromptu parades of triumphant soccer fans. Limited-production wines, juicy steaks, and ice cream in countless flavors are among the old-world imports the city has perfected.

STAY A FEW DAYS – EXPERIENCE BUENOS ARIRES – TAKE IN A TANGO SHOW – VISIT IGUAZU FALLS

 
After extensive refurbishment, Silver Cloud is the most spacious and comfortable ice class vessel in expedition cruising. Her large suites, her destination itineraries and her unparalleled service make her truly special. Her four dining options will tantalise your taste buds and as 80% of her suites include a veranda, watching a breaching whale or a few cavorting penguins has never been so personal. Broad sweeping decks with multiple open spaces and a swimming pool complete what is surely the most distinctive expedition ship sailing today. A limited number of guests in polar waters, mean that Silver Cloud has the highest space to guest and crew to guest ratios in expedition cruising. With her 16 zodiacs, 10 kayaks, possibilities are almost limitless with ship-wide simultaneous explorations. Finally, a team of up to 22 passionate and dedicated expedition experts are always at hand to ensure your voyage is enhanced every step of the way.
GUESTS: 254
CREW: 223
LENGTH: 514.14 Feet / 156.7 Meters
SUITES
Silversea's oceanview suites are some of the most spacious in cruising, and all include the services of a butler. Select your suite and Request a Quote – guests who book early are rewarded with the best fares and ability to select their desired suite.
Owner's Suite
This stylish apartment offers the superlative in levels of space, comfort and service on board. A perfect mix of expedition experience with luxury lifestyle. Available as a one-bedroom configuration or as two bedroom by adjoining with a Vista Suite.
Grand Suite
Expertly designed and exquisitely appointed. The ideal space for sharing stories with fellow explorers and new friends. With enough space to roam both in and outside, this suite is perfect relaxing and recounting the highlights of your day. Available as a one-bedroom configuration or as two-bedroom by adjoining with a Veranda Suite.
Royal Suite
Stately. Commanding and majestic. Perfect for relaxing after a days' exploring and looking through your photos. With lectures being streamed live to your room, this is the pinnacle of good living at sea. Available as a one-bedroom configuration or as two-bedroom by adjoining with a Veranda Suite.
Silver Suite
Stylish and sophisticated with larger verandas, excellent for taking pictures and bird-watching. Situated midship, this suite is perfection in design and comfortable living. A huge walk in wardrobe, a beautiful marbled bathroom and a spacious living area completes the picture. Silver Suites accommodate three guests.
Medallion Suite
With a room configuration that favors watching the sun rise from the comfort of your bed and losing yourself in the mesmerizing seascapes, this suite is the perfect answer to adventure cruising. A large walk-in wardrobe, and an expansive living make the Medallion Suite a your home away from home on the high seas. Medallion Suites accommodate three guests.
Deluxe Veranda Suite
A Silversea signature, with a preferred central location, the Veranda Suite is spacious and welcoming.Floor-to-ceiling glass doors open onto a furnished private teak veranda from where you can contemplate anything from the midnight sun to an antarctic sunrise. The Deluxe Veranda Suite offers preferred central location with identical accommodation to a Veranda Suite.
Veranda Suite
A Silversea signature, the Veranda Suite is spacious and welcoming. Floor-to-ceiling glass doors open onto a furnished private teak veranda from where you can contemplate anything from the midnight sun to an antarctic sunrise. Some Veranda Suites accommodate three guests (Suites going from 505 to 510, and from 605 to 610).
Vista Suite
Your home away from home while you embrace the intrepid explorer within. The suite's seating area has plenty of room to relax while you go over your notes, ready for the next adventure. Large picture windows frame panoramic ocean views, ideal for appraising the local wildlife.
RESTAURANTS
Discover our collection of onboard venues where you'll enjoy spending time with like-minded travellers and of course, our personalized all-inclusive service.