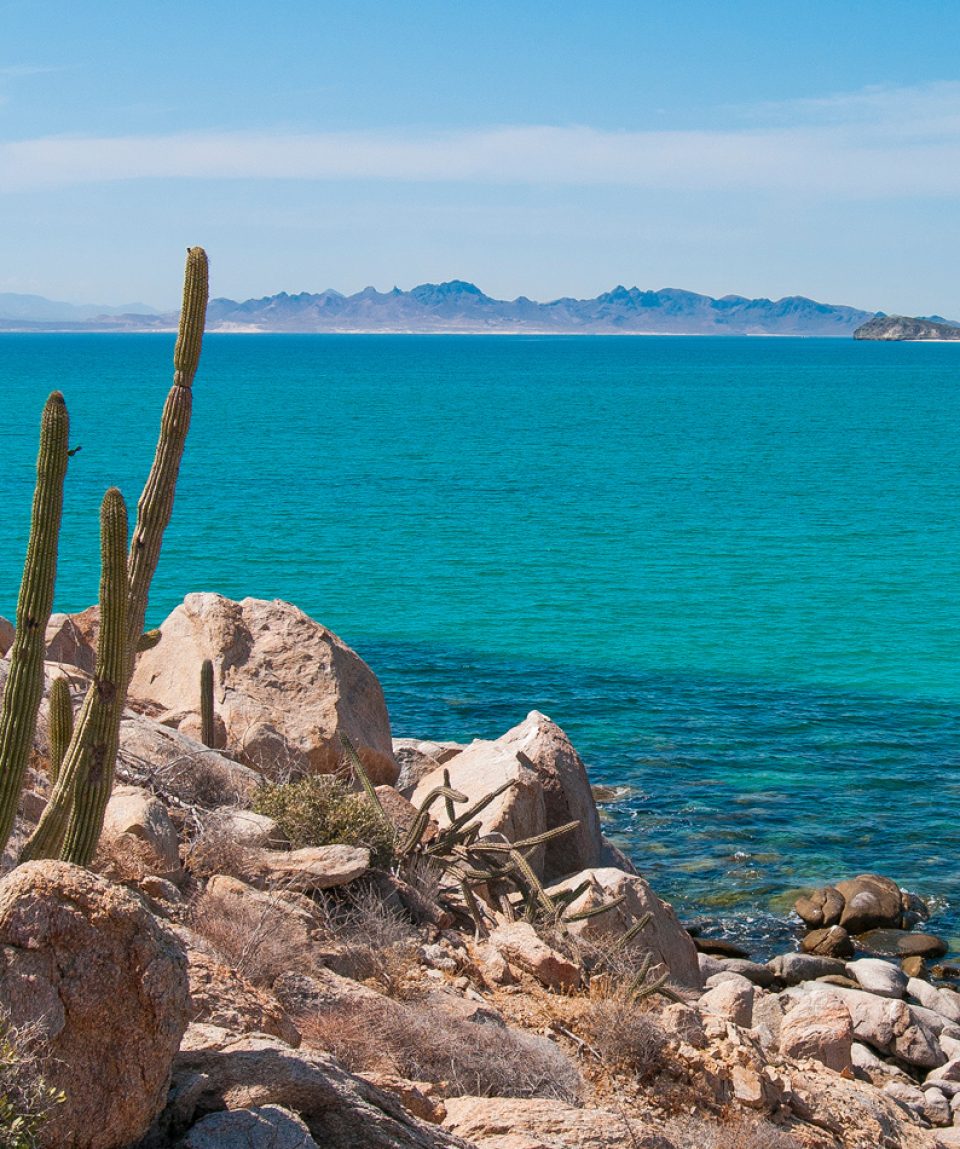 Northern Gulf of California – Mexico's Sea of Cortes
DATES – 2024 – Nov 27; Dec 8, 18
2025 – Apr 5, 15, 25; Nov 26; Dec 7, 17
DURATION – 11-Days/10-Nights     
EMBARKATION – La Paz (Mexico)
DISEMBARKATION – La Paz (Mexico)             
SHIP – M/V Safari Voyager
FROM – $6,500  (Plus. $495 port charges)

All about the Northern Gulf of California – Mexico's Sea of Cortes.
Go farther than ever before on the Baja Peninsula. Skiff, kayak, and paddleboard through bays and beaches as wildlife greet you from land and sea. Venture farther north on the Baja Peninsula during this 10-night adventure.
Stocked with supplies and a bountiful sense of adventure, follow Steinbeck's path into the protected waters of Cousteau's "world's aquarium." Active exploration and a menagerie of wildlife await you!
HIGHLIGHTS
ADVENTURE ACTIVITIES
High adventure on an inland sea! Feel the thrill of active exploration or the warmth of the sand relaxing on a secluded beach.
WILDLIFE & PLANT LIFE
Jacques Cousteau called the Sea of Cortés "the world's aquarium"—and you'll quickly agree! From gracefully gliding whales to bustling bird colonies, Baja is abuzz with life.
LAND ANIMALS & BIRDS
More than 40 reptile and amphibian species, over 50 mammal species, and nearly 200 bird species call Baja California Sur "home." While many are masters of disguise and concealment.
MARINE ANIMALS
From the largest mammal on earth to the tiniest microorganisms, the Sea of Cortés supports an incredible array of marine life. Thousands of invertebrate species cohabitate with more than 900 species of fish as well as whales and other large marine mammals.
FLORA OF BAJA
Remarkably, the arid desert of the Baja Peninsula supports over 500 species of plants. An incredibly unique ecosystem, animal life is inextricably linked with cacti—a relationship that helps preserve diversity of both plant and animal life.

Add Mexico's amazing Copper Canyon to your Sea of Cortes cruise – Fly from La Paz to Los Mochis, overnight in El Fuerte. Enjoy the narrow-gauge El Chepe train up into the Copper Canyon. End in Chihuahua for your flight home.
The tour package inclusions and exclusions at a glance
What is included in this tour?
Items that are included in the cost of tour price.
Group transfers from the airport to the ship on day of embarkation
Group transfer to airport or central location upon
All scheduled landings/excursions
All lectures and briefings onboard
All meals served aboard
Premium spirits, wine, beer; non-alcoholic beverages
Coffee/tea/cocoa/espresso 24 hours daily
Pre-departure materials.
Whats not included in this tour.
Items that are not included in the cost of tour price.
Port fees $495
Visa and passport fees (if applicable)
Airfare
Trip cancellation, luggage and Emergency Evacuation Insurance
Personal expenses such as laundry and telecommunication charges
Staff gratuities
Fuel surcharge may be applied for all bookings
Pre- or post-cruise travel expenses.
Day 1

San José del Cabo / La Paz – Embarkation

Bienvenidos! You will be met at the Los Cabos International Airport in San José del Cabo and transferred to our hospitality area. Joined by your expedition team, an overland orientation transfer to La Paz acquaints you with the dramatic Baja landscape and the week that lies ahead. The captain and crew welcome you aboard just in time for a cocktail and dinner with your new mates.

Day 2

Isla Carmen or Isla Danzante, Loreto Bay National Park   

This morning ushered in the waters of the Loreto Bay National Park. We will cruise the park waters this morning as we search for whales, sea lions, turtles, and dolphins that call these rich waters their own. This is also your chance to learn safety practices while kayaking, paddle boarding, snorkeling, and skiff riding. After lunch, we will find a secure cove on either Isla Carmen or Isla Danzante where you will have a chance to participate in active adventures ashore or in the water. As the sun sets, we are underway to Bahia Concepcion. (BLD)

 

Day 3

Bahia Concepcion

After breakfast, we'll drop the hook in the waters of Bahia Concepcion, a deep inlet that opens to the North. We will spend the entire day playing in this waterborne desert, soaking up the sun and settling into the vibe. You may choose to stay aboard and enjoy the scenery, go ashore for varying levels of activities, or simply settle in at our beach camp. Be on the watch for dolphins and turtles that frequent this area. We will pull the anchor after dinner and work our way north. (BLD)

Day 4

Santa Rosalia Town

Originally a bustling French mining town from the 1880s, you will find Santa Rosalia to possess a flavor of that early charm, even today. This town is like no other in all of Mexico…they even have a French bakery. Take the opportunity to view many of the historic structures and take an included walking tour to Gustave Eiffel's Church of Santa Barbara (of Eiffel Tower fame), the French Bakery, and the mining museum. Your guides will have these and other activities available throughout the day. (BLD)

Day 5

Bahia de los Angeles

This bay and the little town are considered the "Marine Oasis of Baja California" due to the abundant aquatic life. This lovely area is also of the finest boating areas in the Baja area. Perfect for kayaking and small boat excursions and ventures ashore such as hikes to Punta Gringa, visits to the nature museum, and even possible swims with whale sharks. This is also a great chance to take guided walks and hikes or be on your own. This area is also known as one of the few places in Baja where the famed, and huge, Leatherback Turtle is spotted.  (BLD)

Day 6

Isla Salsipuedes

We will have several hikes available, one to the prominent peak, where the view is incredible. Enroute you will see several species of cactus, with potential sightings of hummingbirds and possibly a nesting osprey. This island is also known for encounters with blue-tailed rock lizards, and sea birds of all kinds. Beachcombing, snorkeling, kayaking, skiff tours, and hikes will fill your day with joy. This evening, enjoy a campfire after dinner. Of course, keep your eyes out for marine mammals. (BLD)

Day 7

Captain's Choice & Marine Mammal Search

From UnCruise's research notes: "The islands of San Lorenzo, las Animas, Salsipuedes, Raza, Roca Raza, and Isla Partida lie in a direction parallel to the Baja Peninsula. This area is known as the Canal de Salsipuedes, but due to its extreme depths it is also known to mariners as the Trench. The chart indicates a depth in this area of 4860 feet!"  (BLD)

Day 8

Isla San Esteban

Field notes from our research trip tell the story best: "We went up the main arroyo that splits the island in half. We found numerous Pinto Chuckwallas, that would slap their tails hard on the ground as they scurried off. The hike was rigorous but enjoyed by all. We found hundreds of sea lions hauled out along the south shore of the island. Pelicans, boobies, terns, cormorants, gulls, and osprey were numerous along this rugged coast. This is the right place to spend a full day." (BLD)

Day 9

Mulege Town and Mission

This morning, we will anchor off the Mulege River Estuary. Yes, a river in Baja! If conditions are right, we will set our kayaks, skiffs, and paddle boards loose to enjoy this beautiful area. Later a chance to go ashore, visit the beaches, local shops in town or even take a tour to the historic mission. Your guides have several hiking options available today. (BLD)

Day 10

Agua Verde

After lunch, participate in an adventure in Agua Verde Cove. Twenty-four years ago, UnCruise pioneered a relationship with local ranchers, the Romero family, who you will meet and share stories with. Then take an included mule ride into the back country with them, hike the hills around Agua Verde, snorkel at the famed "Roca Solitaira." After Captain's dinner, join us in the lounge for a remembrance of our time together. (BLD)

Day 11

San Jose del Cabo / La Paz - Disembark

After breakfast, it's "adios" La Paz, as you transfer back to San José del Cabo for your flight or Copper Canyon experience. (B)
Safari Voyager
Discreet, sleek, and stealthy, the Safari Voyager is comfortable in warm water regions and built to handle humidity and heat. Tropical adventure, wilderness access, and the natural landscape are always at the forefront. A seamless extension of the places she sails, the ship and her mostly local crew exude
pura vida (pure life).
Handcrafted artwork throughout the vessel pays homage to the regions of Latin America. Casual in nature, the Safari Voyager is a bit of a show-off, too— take in 270-degree views from the top deck or window-to-window lounge.
Fast Facts
Launched: 1982/2016 (renovated)
Length: 174 ft
Width: 36 ft
Cruise Speed: 9 knots
Total Staff: 28-32
Total Passengers: 62
Cabins: 32