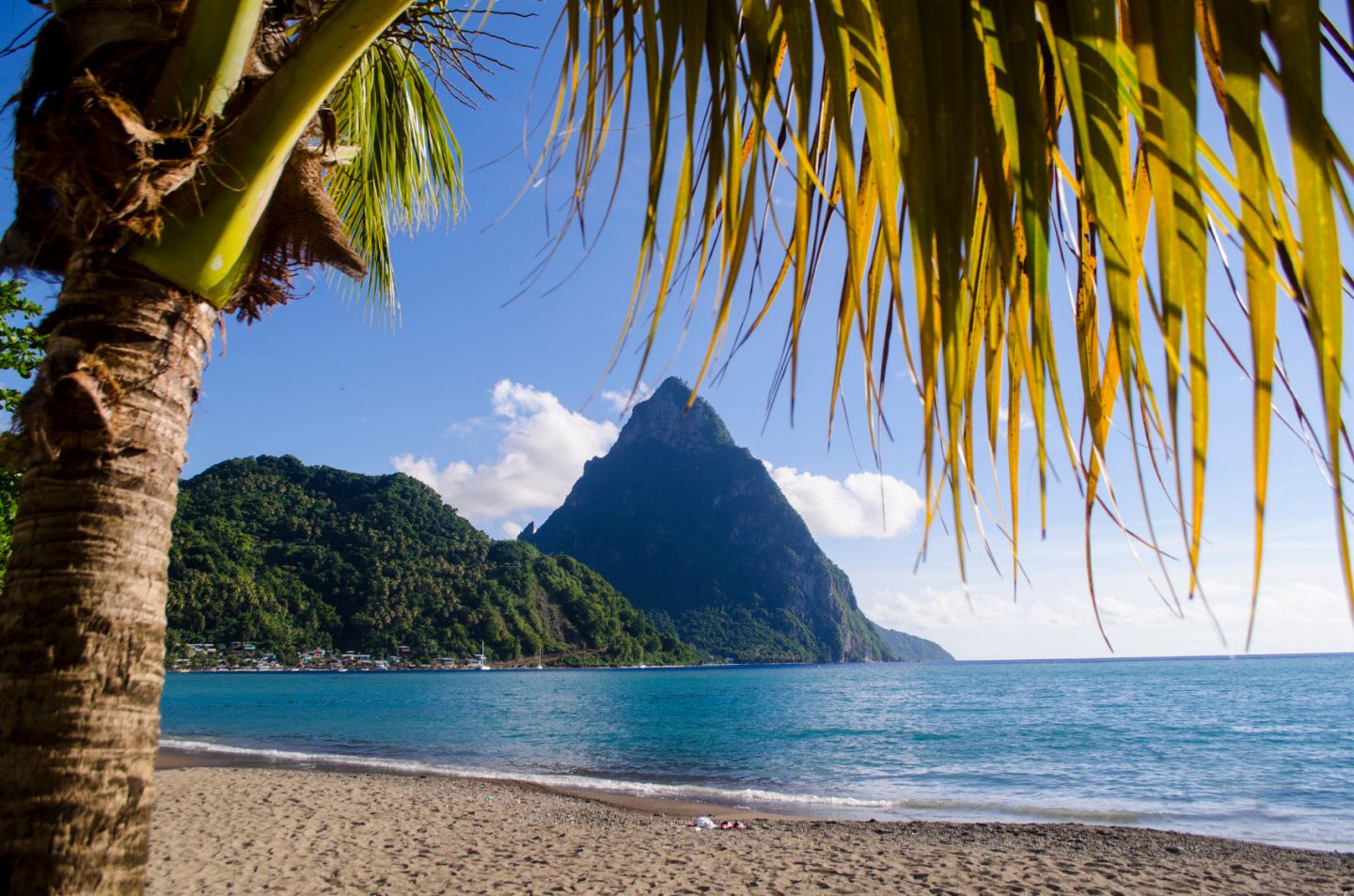 Between Martinique & Panama
DATES: 2019: DEC 7  2020: MAR 12 (Reverse)
DURATION: 10 DAYS/9 NIGHTS
EMBARK:  FORT-de-FRANCE, MARTINIQUE
DISEMBARK:  COLÓN, PANAMA
SHIPS:  LE DUMONT-D'URVILLE
FROM: $4,430*
 *First Time Ponant Cruisers receive $600 off these fares – Book and deposit by Mar 31, 2019
$950 flight credit per person on select cruises. This offer is valid until June 30, 2019


All about the Between Martinique & Panama.
Join us aboard Le Dumont-d'Urville for an exceptional PONANT cruise sailing from Fort-de-France to Colon. This 10-day itinerary will give you the opportunity to appreciate the richness of Afro-Caribbean cultures, an azure blue sky and white-sand beaches.
Leaving from Martinique, you will head in the direction of the beautiful island of Saint Lucia. Close to the Soufriere volcano, you will be enchanted by the two emblematic rocky pitons, UNESCO World Heritage Sites, which form the backdrop to the island.
Then Le Dumont-d'Urville will head for the idyllic Los Roques archipelago. This small paradise in the Venezuelan Caribbean has been declared a national park and is an ideal spot to dive and snorkel in a turquoise lagoon with stunning sea beds.
You will visit the city of Cartagena de Indias in Colombia. Heavily influenced by its colonial past, it offers a number of interesting sights and landmarks.
Finally, succumb to the charms of the clear waters of Panama and the San Blas archipelago, composed of more than 300 islands and cays. Here, surrounded by palm trees and dugout canoes, you will discover the island of Holandes Cay, where the Kuna people live.
HIGHLIGHTS
UNESCO World Heritage Sites: Saint Lucia's volcanic Pitons; Cartagena de Indias, an old colonial city.
Discovering the Los Roques archipelago, a paradise for sea turtles.
Zodiac® excursions and discovering the stunning San Blas Islands from Holandes Cay.
An extraordinary encounter with the Kuna Indians, a warrior tribe of the San Blas archipelago.
Possibility of diving (PADI Open Water Diver or equivalent) with an experienced instructor on board.
Lecturers on board, selected for their areas of expertise


The tour package inclusions and exclusions at a glance
What is included in this tour?
Items that are included in the cost of tour price.
All accommodations, meals, and excursion described above
Transfers and luggage handling from the airport to the hotel and from hotel to the ship
Gratuities to guides and drivers on included excursions
Comprehensive 8-night cruise aboard the deluxe Le Dumont D'Urville, with all the amenities for which Ponant ships are famous.
Transfer from the pier to the airport at the end of the cruise.
All meals while on board ship (from dinner on embarkation day to breakfast on disembarkation day)
Captain's welcome and farewell cocktail parties
One gala dinner
Open bar: select wines by the glass, house champagne, alcohol except premium brands (list available upon request). (Please note: Availability and brands vary according to ship.)
24-hour room service (special selection)
Evening entertainment and events
On selected cruises: lecturers, guides, naturalists, expedition leaders, special themes
Baggage handling from pier to the ship and vice versa
Gratuities to onboard crew, local guides, and drivers
Port and safety charges
Park entry fees into protected areas
Whats not included in this tour.
Items that are not included in the cost of tour price.
Travel Insurance
Airfare
Items of personal nature, gift shop purchases
Pre and post cruise extensions and hotels
Optional Excursions
Day 1

FORT-DE-FRANCE

Located on the western coast of Martinique, Fort-de-France will amaze you by the splendor of its bay, a magnificent cut-out in the coastline, considered as one of the most beautiful in the world. At the harbor mouth, on its strip of land, Fort Saint-Louis overlooks the capital city of Martinique. If you climb up to it, you can see some breath-taking views. Saint Louis Cathedral and the Schoelcher library bear witness to a secular history, intimately linked to the island's story. Why not try some fresh coconut at the colourful Grand Marché. Two really pleasant places you can take a breather in, right in the heart of the city, are the garden of Balata and the Aimé Césaire park.

Day 2

SOUFRIÈRE

Nestled in the crook of a breath-taking bay, the former capital of St Lucia is brimming with attractions. Soufrière is famous for The Pitons, volcanic spires that tower over the entrance to the town, and you will fall in love with its authentic Creole charm and warm friendly atmosphere. As well as diving and swimming off exquisite beaches, don't miss Diamond Falls Botanical Gardens for the mineral baths, one of the natural wonders of the Caribbean.

Day 3

MAYREAU ISLAND

Among the string of paradisiac islands with their white sandy beaches that form the Saint Vincent and the Grenadines archipelago, Mayreau is the smallest. Its peaceful and idyllic atmosphere, far from the madding crowd, invites you to relax. Onshore, make the most of a shaded and fully equipped beach, from where you'll be able to set off snorkelling to explore superb coral gardens overflowing with life and color.

Day 4

LA BLANQUILLA ISLAND

A trip to Venezuela is a truly original interlude, surrounded by untamed nature where adventure is the watchword… The longest Caribbean coastline in South America awaits you in the North of the country, where endless pristine, sun-kissed beaches make the traveler feel that they have arrived in paradise. A nature reserve with exceptional coral reefs, the elegant island of Blanquilla is an ideal destination for divers or those who simply love to swim in crystal waters surrounded by multicolored fish. A fan-shaped paradise surrounded by an emerald sea, do not miss this stopover of matchless charm.

Day 5

LOS ROQUES ARCHIPELAGO

A journey to Venezuela is a real break from routine, at the heart of a wild natural environment where adventure is the watchword. The longest Caribbean coastline of the South American continent awaits you to the north of the country, where long unspoiled sun-kissed beaches give the traveller the impression that they have entered paradise. The Nature Reserve of Los Roques National Park is a 100 km² lagoon with more than 300 islands, islets and sand banks. Protected by a great coral reef, caressed by the gentle breeze of the trade winds, these islands with their unique beauty offer travellers their emerald water. Do not miss this port of call of incomparable charm.

Day 6

BONAIRE

Surrounded by a barrier reef and a marine sanctuary, Bonaire is a true paradise for divers. This peaceful and preserved little island is renowned all over the world for its coral reefs, which are directly accessible from the beach, providing a unique sensation of freedom. Discover magnificent marine fauna and flora while snorkelling or diving in its turquoise waters. The Washington Slagbaai National Park in the north of the island is home to many birds. It is the most important breeding site in the south Caribbean for the pink flamingo, the island's emblematic animal.

Day 7

AT SEA

During your day at sea, make the most of the many services and activities on board. Treat yourself to a moment of relaxation in the spa or stay in shape in the fitness center. Depending on the season, let yourself be tempted by the swimming pool or a spot of sunbathing. This day without a port of call will also be an opportunity to enjoy the conferences or shows proposed on board, to do some shopping in the boutique or to meet the PONANT photographers in their dedicated space. As for lovers of the open sea, they will be able to visit the ship's upper deck to admire the spectacle of the waves and perhaps be lucky enough to observe marine species. A truly enchanted interlude, combining comfort, rest and entertainment.

Day 8

CARTAGENA

A splendid harbour city in the north of Columbia, a source of inspiration for the Colombian writer Gabriel García Márquez, Cartagena will win you over with its well-preserved colonial architecture, and warm friendly atmosphere. You can visit the sumptuous UNESCO World Heritage fortified historical centre whose churches and houses have magnificent multi-coloured façades. A witness of Spanish domination, the San Felipe de Barajas fortress stands on top of a hill from where you can admire views over the whole city. The Las Bóvedas neighborhood will charm you with its arcades, used as prison cells during the 19th century civil wars.

Day 9

SAN BLAS ISLANDS

Located on the north-east coast of Panamá, the San Blas archipelago is a string of coral islands that graces the heart of the Caribbean Sea. Over 300 islands and cays covering an area of 300 square kilometers offer travelers a multitude of treasures. Sheltered behind a long coral reef, the San Blas Islands are full of paradisiac anchorages. The long sandy white beaches bounded by crystal clear waters will allow you to relax and enjoy an incredible marine fauna before discovering the Kunas Indian community. Still feeding off hunting and fishing, they will welcome you in their villages of bamboo houses gathered near the beaches.

DAY 10

COLON

Colón is the second largest city in Panama, at the Caribbean entrance of the Panama Canal. Colón is today an important port, and the free trade zone created in 1953 contributed greatly to the development of the city.  Colón was founded in 1850 by Americans working on the Panama railroad connecting the Atlantic and Pacific coasts through the isthmus of Panama; the city rapidly overshadowed the older Caribbean ports of Panama when the canal opened.
LE DUMONT-D'URVILLE
Premiering in June 2018 through Summer 2020, PONANT's six new luxury expedition ships will set sail to the world's most inaccessible locations and go further—where others do not go. The PONANT EXPLORER yachts, each measuring 430 feet in length, are designed for just 184 guests and served by 110 crew members. They feature innovative technology, elegantly-designed guest accommodations with private balcony, welcoming lounge areas that open to the outside, and an infinity pool. And, in a world exclusive, the PONANT EXPLORER yachts are the first ships in the world to be equipped with an underwater, multisensory lounge, called Blue Eye, located within the hull eight feet beneath the water line. Two large oculus windows provide views of the underwater marine life, and guests can also hear and sense this life through unique wave technology.
THE PONANT EXPLORERS
Le Lapérouse, Le Champlain, Le Bougainville, Le Dumont-d'Urville, Le Bellot & Le Surville
Ship Specifications
• Length . . . . . . . . . . . . . . . . . . . . . .430 ft.
• Beam . . . . . . . . . . . . . . . . . . . . . . .59 ft.
• Draft . . . . . . . . . . . . . . . . . . . . . . . .15 ft.
• Average cruising speed . . . . . . .12.5 knots
• Ice Class . . . . . . . . . . . . . . . . . . . . .1C
• Classification . . . . . . . . . . . . . . . .Bureau Veritas
• Flag . . . . . . . . . . . . . . . . . . . . . . . . .French
• Guest Decks . . . . . . . . . . . . . . . . .5
• Crew members . . . . . . . . . . . . . .110
• Guest capacity . . . . . . . . . . . . . . . up to 184 guests (double occupancy)
• Staterooms with balcony . . . . .88
• Suites with bay windows and terrace . . . . .. . .4
• Zodiacs  (Mark V HD) . . . . . . . .10 Zodiac craft
• Boston Whaler-type boats . . . .1
• Gross tonnage . . . . . . . . . . . . . . .9,900 UMS
• Stabilizers (2) . . . . . . . . . . . . . . . . 13.1 ft. long x 4.7 ft. wide
• Construction . . . . . . . . . . . . . . . . VARD, Norway
Public Areas
LOBBY
1,507 sq. ft.
Concierge lounge including reception and customer relations.
RESTAURANTS
• Panoramic Restaurant
2,798 sq. ft.
Inside capacity: 184 Outside capacity: 35
Main dining room for breakfast, lunch, and dinner serving French
and international cuisine. Cold buffet for salad, dessert, and cheese.
• Grill Restaurant
2,530 sq. ft.
Capacity: 70 (outside only)
Casual eating venue for lunch and dinner.
LOUNGES
• Main Lounge
2,153 sq. ft.
Capacity: 184
Accommodates all guests. Afternoon tea, lounge, live music, dance
floor, and cocktail bar. Access to outside pool area.
• Observation Lounge
Smaller lounge surrounded by windows with bar and library.
• Blue Eye Underwater Lounge
807 sq. ft.
Capacity: 30
Multi-sensory underwater passenger lounge, a world first.
• Pool area
Infinity pool, solarium, lounge chairs, bar.
MODULAR MARINA
Transforms to 3 positions:
1. Sun deck (when sailing).
2. Immersed connector port for disembarkation into Zodiacs,
SCUBA diving, or deep sea fishing.
3. Sea level for water sports including kayaking and stand up
paddle boarding.
RECREATION / RELAXATION
• Theater
Inside capacity: 184
Main venue for lectures and entertainment. State-of-the-art audio and video technology. LED wall behind stage for projection.
• Fitness & Spa/Beauty Corner
Fitness room with top-of-the-line equipment
Spa/Beauty Corner: hairdresser, massage rooms (3), Finnish sauna, sheltered terrace.
• Infinity pool with counter-current swimming.
• Internet corner, library, and art gallery.
• Infirmary staffed by a doctor.
Stateroom Amenities
• Glass door leading to private balcony
• Queen bed or twin-size beds
• Connecting cabins available
• Individually-controlled air conditioning
• Private bathroom with Hermès bath products, hair dryer, and bathrobes
• 110/220-volt outlets
• Direct-dial satellite telephone
• WiFi access
• Flat-screen satellite TV
• Movies on-demand
• iPod™ player
• Desk with stationery
• Mini-bar
• Safe
• 24-hour room service
OWNER'S SUITE
(484 sq.ft. + 328 sq.ft. private patio + Jacuzzi)
3 GRAND DELUXE SUITES
(484 sq.ft. + 328 sq.ft. private patio)
13 PRESTIGE SUITES
(409 sq.ft. + 86 sq.ft. private balcony)
4 PRIVILEGE SUITES
(344 sq.ft. + 86 sq.ft. private balcony)
5 DELUXE SUITES
(291 sq.ft. + 65 sq.ft. private balcony)
13 DELUXE STATEROOMS
(205 sq.ft. + 43 sq.ft. private balcony)
66 PRESTIGE STATEROOMS
(205 sq.ft. + 43 sq.ft. private balcony)