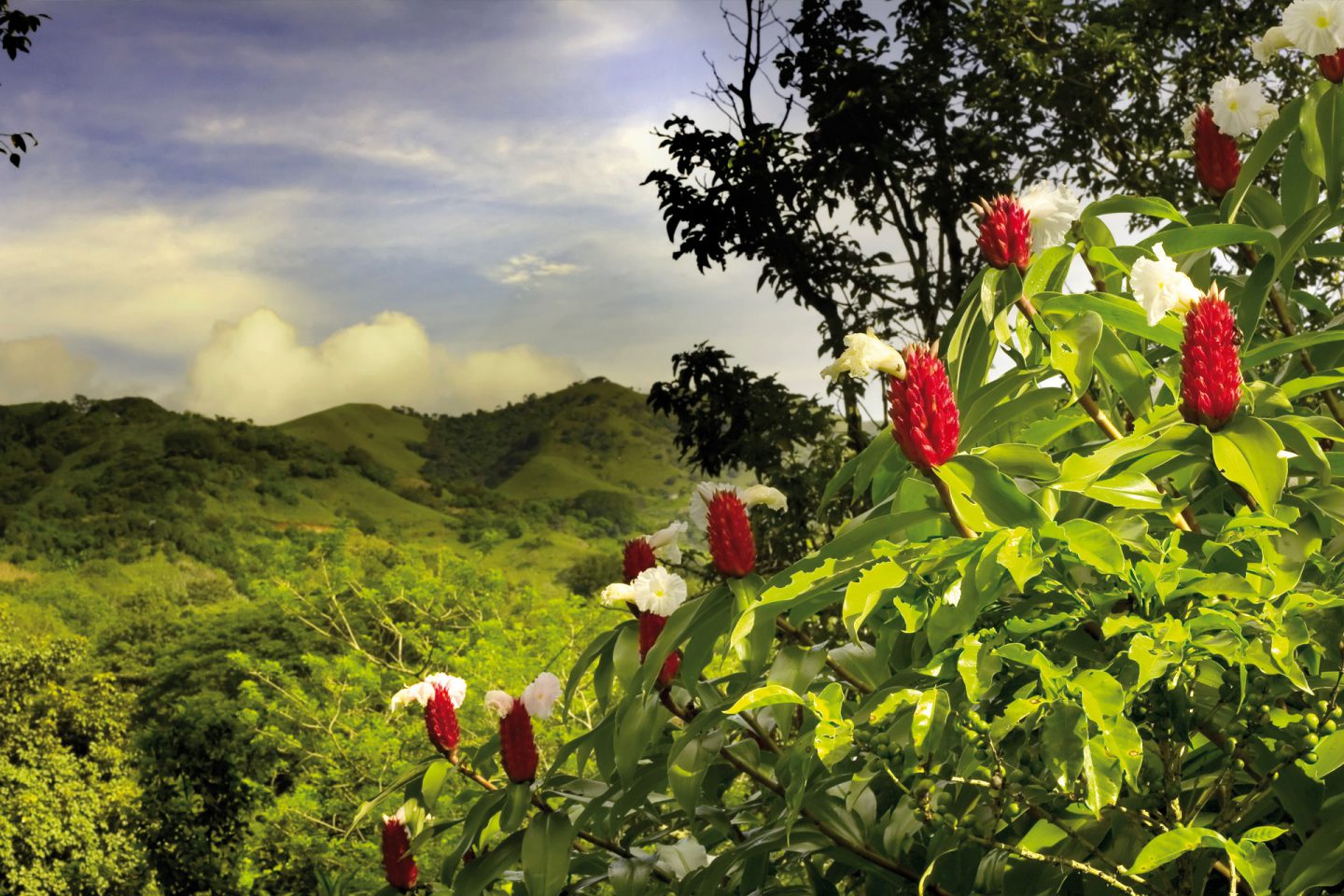 An Exploration in Nature in Costa Rica & the Panama Canal
DATES: 2020: JAN 6
DURATION: 11 DAYS/10 NIGHTS
EMBARK:  PUERTO CALDERA, COSTA RICA
DISEMBARK:  COLON, PANAMA
SHIPS:  LE DUMONT-D'URVILLE
FROM: $5,870
Special QUINTESSENTIAL PROGRAM  – with guest speakers Edie Rodriguez and Paul Donahue, PLUS $250 per person shipboard credit.

All about the An Exploration in Nature in Costa Rica & the Panama Canal.
Created specially for like-minded travelers. 
This voyage is about nature – its abundance and variety – and about the challenges facing species of all shapes and sizes as they cope with a rapidly changing environment.  In Costa Rica, which has done more than any other Central American country to preserve and protect its natural treasures, we explore three of its world famous nature reserves:  the luxuriant tropical vegetation and fascinating fauna of Curù and Manuel Antonio National Parks, as well as the marvels of Corcovado National Park, once described by National Geographic as "the most biologically intense place on Earth in terms of biodiversity."  In these parks, we will find a variety of ecosystems – ranging from rainforest to mangroves and beaches – that provide habitat for a mind-boggling variety of wildlife: monkeys, coatimundis, peccaries, toucans, macaws, and literally hundreds of species of birds. In Panama, we extend our encounter with the rich biodiversity of Central America as we visit the UNESCO World Heritage Site of the Darien Jungle. After transiting the Panama Canal and admiring its design and construction, we spend two days in the fascinating marine world of the San Blas Islands, where we snorkel at Holandes Cayes and visit with the Kuna Indians, who govern the islands as an autonomous province with minimal interference from the national government.
HIGHLIGHTS
Lectures and discussions with ecologist Paul Donahue
Outings and shore visits in Zodiac® inflatables with a team of experienced naturalist guides.
Lectures and information sessions hosted by our naturalist-guides, covering wildlife, history, climate, environmental protection.
Hiking and snorkeling opportunities
Landscapes: pristine beaches, mangroves, rainforests
Wildlife: Howler monkeys, white collared monkeys, coatimundis, sloths, agoutis, and the tiny Squirrel Monkey; hundreds of species of birds and butterflies, including toucans and the Scarlet Macaw
Meetings with local peoples, including the Kuna of San Blas Islands

The tour package inclusions and exclusions at a glance
What is included in this tour?
Items that are included in the cost of tour price.
All accommodations, meals, and excursions described in itinerary
Transfers and luggage handling from the airport to the hotel and from hotel to the ship
Gratuities to guides and drivers on included excursions
Comprehensive 8-night cruise aboard the deluxe Le Dumont D'Urville, with all the amenities for which Ponant ships are famous.
Transfer from the pier to the airport at the end of the cruise.
All meals while on board ship (from dinner on embarkation day to breakfast on disembarkation day)
Captain's welcome and farewell cocktail parties
One gala dinner
Open bar: select wines by the glass, house champagne, alcohol except premium brands (list available upon request). (Please note: Availability and brands vary according to ship.)
24-hour room service (special selection)
Evening entertainment and events
On selected cruises: lecturers, guides, naturalists, expedition leaders, special themes
Baggage handling from pier to the ship and vice versa
Gratuities to on board crew, local guides, and drivers
Port and safety charges
Park entry fees into protected areas
Whats not included in this tour.
Items that are not included in the cost of tour price.
Travel Insurance
Airfare
Items of personal nature, gift shop purchases
Pre and post cruise extensions and hotels
Optional Excursions, if any
Day 1

PUERTO CALDERA

The port of Puerto Caldera lies on the Pacific coast, in the Puntarenas region, at the mouth of the Gulf of Nicoya. Areas of wilderness stretch along the coast. Further inland, among the countless natural wonders to be found in the generous rainforest of the Costa Rica's national parks, Poas and Arena volcanoes towers up in all their majestic glory. In this luxuriant natural setting, Costa Rica protects one of the planet's richest biodiversity: monkeys, sloths, tropical birds, iguanas, crocodiles, waterfalls, canyons, and more than ten thousand species of tropical plants.

Day 2

CURÙ WILDLIFE REFUGE

On the southern part of the Nicoya Peninsula, the small Curù Wildlife Refuge is the oldest protected park in Costa Rica. This refuge is an exemplary site in terms of ecotourism as well as a research centre for scientists from all over the world. It has been at the heart of an original conservation and sustainable development project since the 1930s. After a short Zodiac® trip, you will discover, via the paths that criss-cross the tropical forest and lead to magnificent beaches, the most emblematic species of Costa Rica: monkeys, iguanas and over 200 bird species. Since their recent reintroduction, the scarlet macaw and the spider monkey have thrived in this preserved environment.

Day 3

MANUEL ANTONIO NATIONAL PARK

You will land in a Zodiac® on the beaches of the Manuel Antonio National Park, one of the jewels of Costa Rica. Protected since the 1970s, this small park, only 16 km² and bordered by the idyllic beaches of the Pacific Ocean, is home to rich biodiversity. Along peaceful paths or during a break on the beach, you will be welcomed by a tropical forest full of life: from the discreet sloth to the noisy howler monkey and the mischievous white-faced capuchin. On the fine sandy beaches rising to lush hills and coconut trees, you will be amused by the dance of the racoons that race down from the trees to tease visitors.

Day 5

GOLFITO

The town of Golfito lies on the Pacific coast of Costa Rica, in the province of Puntarenas, one of the most humid regions in the world. It was occupied by the indigenous Bruncas tribe during the Pre-Columbian era. Once specialised in the export of bananas, Golfito has today become the starting point for walkers who want to reach the Corcovado National Park, one of the largest primary tropical rainforests in Central America. Meanwhile, the beaches of Golfo Dulce are some of the most beautiful in Costa Rica, with the Piedras Blancas National Park as their backdrop, along with the Vida Silvestre refuge, home to many tropical birds and monkeys as well as a variety of rare species of plants.

Day 6

CÉBACO ISLAND

Off the Pacific coast of Panama, at the entrance to the Gulf of Montijo, Cebaco Island conjures visions of paradise lost. Covered in tropical rainforest, edged by white sandy beaches, home to exceptionally rich plant and wildlife, the island offers a number of hiking routes along which to discover its pristine natural environment. Its magnificent coral reefs, located in the outlying regions of the Coiba National Park, a UNESCO World Heritage site, are the refuge for many marine species and offer stunning underwater landscapes.

Day 7

PLAYA MUERTO, DARIEN NATIONAL PARK

The most remote and least developed region of Panama, the province of Darien is an unspoilt land with an extremely rich variety of flora and fauna. Listed by UNESCO as World Heritage,Darien National Park offers its extraordinary scenery of rocky coastlines, mountain ranges, mangroves, rivers and creeks. Discover Playa Muerto, a tiny coastal village home to the Emberas Amerindian community. You will visit the village, attend traditional songs and dances of the locals, and admire beautiful local craft.

Day 8

CROSSING THE PANAMA CANAL

Aboard your ship, experience something unique, that has inspired the imagination of numerous adventurers in the 20th century: sailing the Panama Canal. Its construction started in 1880 under the direction of Ferdinand De Lesseps. Abandoned then resumed, this marvel of engineering was completed by the United States in 1887 and opened in 1914. The canal crosses the Isthmus of Panama and links the Atlantic to the Pacific. Including three levels of locks and by raising ships to the level of Lake Gatun, almost as if the water was a lift, it allows them to avoid having to round Cape Horn.

Day 10

HOLANDES CAYES

Holandes Cayes is among the islands of the San Blas archipelago, a string of coral islands that graces the heart of the Caribbean Sea. Some 378 islands and cays covering an area of 260 square kilometres offer travellers a multitude of natural and cultural treasures. Holandes Cayes, which is nicknamed "the swimming pool", is popular with the cruise-yachting community for its white sand beaches and diving and snorkelling opportunities.

Day 11

COLON

Colón is the second largest city in Panama, at the Caribbean entrance of the Panama Canal. Colón is today an important port, and the free trade zone created in 1953 contributed greatly to the development of the city.  Colón was founded in 1850 by Americans working on the Panama railroad connecting the Atlantic and Pacific coasts through the isthmus of Panama; the city rapidly overshadowed the older Caribbean ports of Panama when the canal opened.
LE DUMONT-D'URVILLE
Premiering in June 2018 through Summer 2020, PONANT's six new luxury expedition ships will set sail to the world's most inaccessible locations and go further—where others do not go. The PONANT EXPLORER yachts, each measuring 430 feet in length, are designed for just 184 guests and served by 110 crew members. They feature innovative technology, elegantly-designed guest accommodations with private balcony, welcoming lounge areas that open to the outside, and an infinity pool. And, in a world exclusive, the PONANT EXPLORER yachts are the first ships in the world to be equipped with an underwater, multisensory lounge, called Blue Eye, located within the hull eight feet beneath the water line. Two large oculus windows provide views of the underwater marine life, and guests can also hear and sense this life through unique wave technology.
THE PONANT EXPLORERS
Le Lapérouse, Le Champlain, Le Bougainville, Le Dumont-d'Urville, Le Bellot & Le Surville
Ship Specifications
• Length . . . . . . . . . . . . . . . . . . . . . .430 ft.
• Beam . . . . . . . . . . . . . . . . . . . . . . .59 ft.
• Draft . . . . . . . . . . . . . . . . . . . . . . . .15 ft.
• Average cruising speed . . . . . . .12.5 knots
• Ice Class . . . . . . . . . . . . . . . . . . . . .1C
• Classification . . . . . . . . . . . . . . . .Bureau Veritas
• Flag . . . . . . . . . . . . . . . . . . . . . . . . .French
• Guest Decks . . . . . . . . . . . . . . . . .5
• Crew members . . . . . . . . . . . . . .110
• Guest capacity . . . . . . . . . . . . . . . up to 184 guests (double occupancy)
• Staterooms with balcony . . . . .88
• Suites with bay windows and terrace . . . . .. . .4
• Zodiacs  (Mark V HD) . . . . . . . .10 Zodiac craft
• Boston Whaler-type boats . . . .1
• Gross tonnage . . . . . . . . . . . . . . .9,900 UMS
• Stabilizers (2) . . . . . . . . . . . . . . . . 13.1 ft. long x 4.7 ft. wide
• Construction . . . . . . . . . . . . . . . . VARD, Norway
Public Areas
LOBBY
1,507 sq. ft.
Concierge lounge including reception and customer relations.
RESTAURANTS
• Panoramic Restaurant
2,798 sq. ft.
Inside capacity: 184 Outside capacity: 35
Main dining room for breakfast, lunch, and dinner serving French
and international cuisine. Cold buffet for salad, dessert, and cheese.
• Grill Restaurant
2,530 sq. ft.
Capacity: 70 (outside only)
Casual eating venue for lunch and dinner.
LOUNGES
• Main Lounge
2,153 sq. ft.
Capacity: 184
Accommodates all guests. Afternoon tea, lounge, live music, dance
floor, and cocktail bar. Access to outside pool area.
• Observation Lounge
Smaller lounge surrounded by windows with bar and library.
• Blue Eye Underwater Lounge
807 sq. ft.
Capacity: 30
Multi-sensory underwater passenger lounge, a world first.
• Pool area
Infinity pool, solarium, lounge chairs, bar.
MODULAR MARINA
Transforms to 3 positions:
1. Sun deck (when sailing).
2. Immersed connector port for disembarkation into Zodiacs,
SCUBA diving, or deep sea fishing.
3. Sea level for water sports including kayaking and stand up
paddle boarding.
RECREATION / RELAXATION
• Theater
Inside capacity: 184
Main venue for lectures and entertainment. State-of-the-art audio and video technology. LED wall behind stage for projection.
• Fitness & Spa/Beauty Corner
Fitness room with top-of-the-line equipment
Spa/Beauty Corner: hairdresser, massage rooms (3), Finnish sauna, sheltered terrace.
• Infinity pool with counter-current swimming.
• Internet corner, library, and art gallery.
• Infirmary staffed by a doctor.
Stateroom Amenities
• Glass door leading to private balcony
• Queen bed or twin-size beds
• Connecting cabins available
• Individually-controlled air conditioning
• Private bathroom with Hermès bath products, hair dryer, and bathrobes
• 110/220-volt outlets
• Direct-dial satellite telephone
• WiFi access
• Flat-screen satellite TV
• Movies on-demand
• iPod™ player
• Desk with stationery
• Mini-bar
• Safe
• 24-hour room service
OWNER'S SUITE
(484 sq.ft. + 328 sq.ft. private patio + Jacuzzi)
3 GRAND DELUXE SUITES
(484 sq.ft. + 328 sq.ft. private patio)
13 PRESTIGE SUITES
(409 sq.ft. + 86 sq.ft. private balcony)
4 PRIVILEGE SUITES
(344 sq.ft. + 86 sq.ft. private balcony)
5 DELUXE SUITES
(291 sq.ft. + 65 sq.ft. private balcony)
13 DELUXE STATEROOMS
(205 sq.ft. + 43 sq.ft. private balcony)
66 PRESTIGE STATEROOMS
(205 sq.ft. + 43 sq.ft. private balcony)