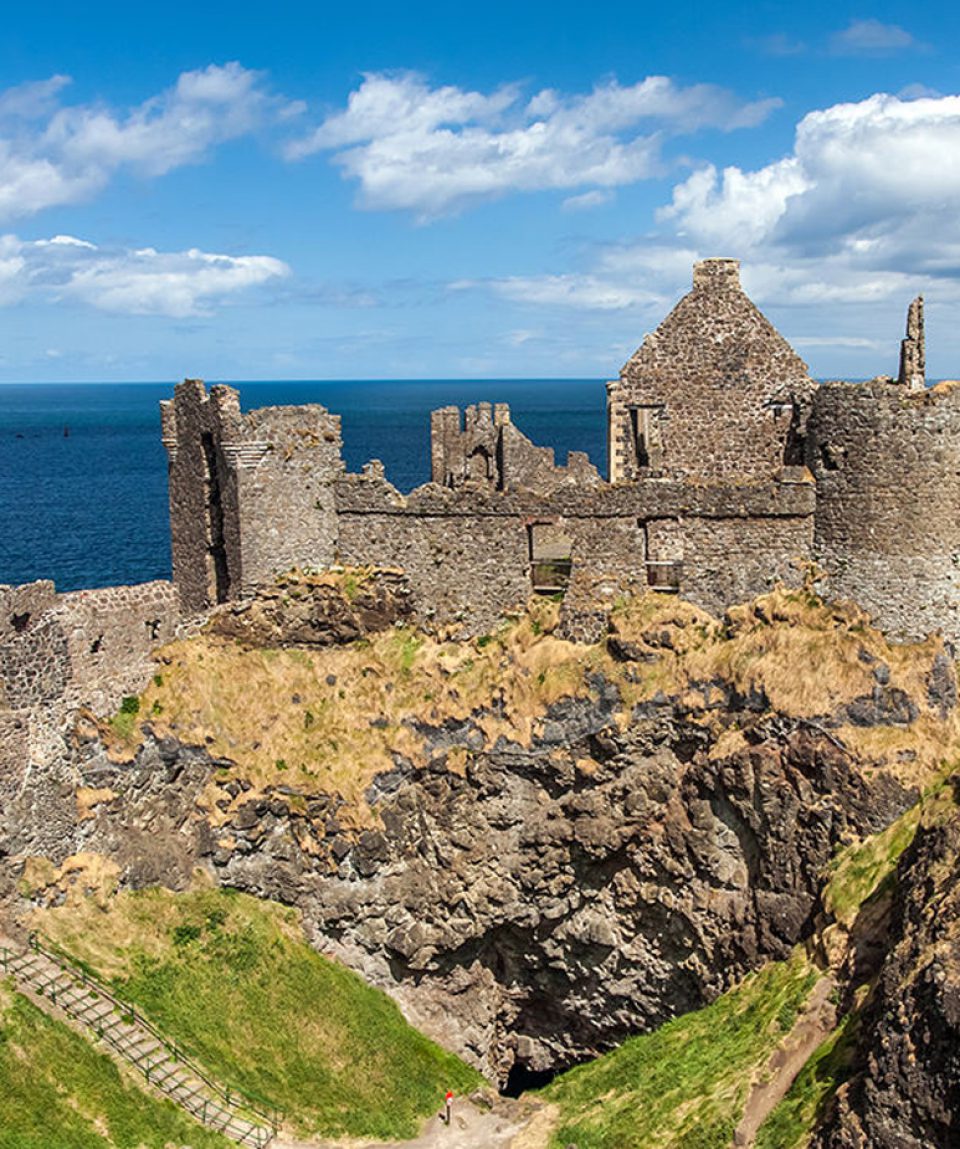 AMSTERDAM TO DUBLIN EXPEDITION CRUISE
DATE: MAY 13-23, 2019
 DURATION: 11 DAYS/10 NIGHTS
 EMBARK: AMSTERDAM, NETHERLANDS
DISEMBARK: DUBLIN, IRELAND
 SHIP: Silver Cloud Expedition
 FROM: $8,500
Pre- and Post-Cruise tours are available.
All about the AMSTERDAM TO DUBLIN EXPEDITION CRUISE.
Join us to experience the British Isles and Ireland on a magic-filled journey that highlights the natural beauty of this region as much as its rich ancient history. We will sail from Amsterdam to Dublin, over 10 days. Experience the English Channel as it has been travelled for centuries, stopping first at St. Peter's Port on Guernsey Isle, one of the world's most beautiful ports. See the incredible Tresco Abbey Gardens at the Isles of Scilly off Cornwall and stop to visit ancient medieval castles in Pembroke, Wales. Most of your time will be spent in Ireland, where we will find the massive and ornate Kylemore Abbey with its 6-acre Victorian Walled Gardens nestled in Druchruach Mountain. We will also enjoy an evening ashore on Clare Island to experience traditional Irish fare, music, drinks and dancing. This voyage will delight nature-lovers: see for yourself why the Cliffs of Moher are Ireland's most popular natural attraction, view thousands of flowers and plants at Tresco Abbey, and observe over 27,000 pairs of Northern Gannets and other birds at Skellig Islands. Throughout the voyage, learn about the geology, wildlife and botany of these naturally beautiful locations from lecture presentations offered by your knowledgeable onboard Expedition Team.
 Voyage Highlights:
Tresco, Isles of Scilly – Visit Tresco Abbey Gardens, an astounding 17-acre sub-tropical paradise with palm trees and brilliant flora nestled amidst the ancient ruins of a Benedictine abbey (964 AD). Thousands of exotic plants thrive here that would not be possible to grow even 30 miles away on the mainland in Cornwall thanks to fingers of warm Gulf Stream water.
Pembroke, Wales – Visit the picturesque, history-laden Picton Castle (built in 13th century AD) or Pembroke Castle, the remains of the 11th century medieval castle that housed Henry VII, King of England in the 15th–16th century AD. Skellig Islands, Ireland –See the stone beehive huts (clochain) at the monastic settlement that dates as early as 6th century AD (and is a UNESCO World Heritage site). Learn why these islands have been dubbed an Important Bird Area, with over 27,000 pairs of Northern Gannets that live here among at least nine other bird species (including the endearing Atlantic Puffin and the stalwart Peregrine Falcon).
Kylemore Abbey and Victorian Gardens, Ireland –Tour the inside of the majestic waterfront Kylemore Abbey nestled at the base of Druchruach Mountain. View the 6-acre Victorian Walled Gardens, or hike amidst a small portion of the 1,000 acres of awe-inspiring mountainside. Galway, Ireland –Visit the dramatic and iconic Cliffs of Moher (UNESCO Global Geopark), Ireland's most often-visited natural attraction, or take a full-day excursion into the Connemara countryside.
Cultural Highlight:
Enjoy an evening ashore on Clare Island that combines traditional Irish music, delicious seafood and delightful drinks that locals have enjoyed for generations.
Wildlife Watch List: 
Birds of note: Northern Gannets, Manx Shearwaters, Razorbills, Common Guillemots, Great Cormorants, Common Shags, Black-legged Kittiwakes, Atlantic Puffins, European Storm Petrels, Eurasian Oystercatchers, Short-eared Owls, Common Kestrels and Peregrine Falcon
Sea mammals: Harbor porpoises and grey seals
Expedition highlights and wildlife listed here are possible experiences only and cannot be guaranteed. Your Expedition Leader and Captain will work together to ensure opportunities for adventure and exploration are the best possible, taking into account the prevailing weather and wildlife activity.
The tour package inclusions and exclusions at a glance
What is included in this tour?
Items that are included in the cost of tour price.
All meals
Beverages, open bar, beer, wine, liquor
Room service
Butler service
All excursions
Expedition leaders and guest speakers
Gratuities to ship crew
Unlimited Free Internet
Whats not included in this tour.
Items that are not included in the cost of tour price.
Pre- and Post-cruise tours
Travel Insurance
Air Fare (Unless Free Air is available)
Day 1

AMSTERDAM - EMBARKATION

Amsterdam combines the unrivaled beauty of the 17th-century Golden Age city center with plenty of museums and art of the highest order, not to mention a remarkably laid-back atmosphere. It all comes together to make this one of the world's most appealing and offbeat metropolises in the world. Built on a latticework of concentric canals like an aquatic rainbow, Amsterdam is known as the City of Canals—but it's no Venice, content to live on moonlight serenades and former glory. Pre- and post-cruise tours are available.

Day 3

ST. PETER PORT, GUERNSEY

Cobblestone streets, blooming floral displays, and tiny churches welcome you to this wonderfully pretty harbor. As the capital, and main port of Guernsey, St Peter Port puts all of the island's gorgeous beaches, wonderful history and inspiring stories at your fingertips.

Day 4

ST MARY'S (ISLES OF SCILLY) - TRESCO (ISLES OF SCILLY), UNITED KINGDOM

St Mary's is the Isle of Scilly's largest island with a population of 1800 residents and an area of 6.58 square Kilometres; this is the gateway to the rest of the magnificent islands. Hugh town – a beautiful Old town with its own beach, nature reserve and church is the main attraction of St Mary's, with tiny streets brimming with shops to pick up the perfect souvenir. St Mary's is a hidden gem, with long stretches of white sandy beaches and a breath-taking untouched landscape. The coastline holds many archaeological sites along with miles of splendid walks along the coastal and country paths.

For many visitors Tresco is the most attractive of the Isles of Scilly. This is especially due to its Abbey Garden, which is home to thousands of exotic plant species from around 80 different countries. Plant collector Augustus Smith began the gardens in the 1830s on the site of an old Benedictine Abbey by channeling the weather up

and over a network of walled enclosures built around the Priory ruins. He had three terraces carved from the rocky south slope and maximized Tresco's mild Gulf Stream climate.

Day 5

PEMBROKE - SKOMER ISLAND, UK

Located on the Pembroke Peninsula of Wales amidst long stretches of sandy beaches and stunning coastal scenery, this historic valley settlement features a number of timeless buildings centered along its quaint Main Street that runs inside the original walls of the town. The municipality itself is surrounded by residential estates, farmland and woods along the estuary of the River Cleddau. Pembroke's rich history dates back to the 11th century when the namesake was little more than a timber fortification on the banks of the Pembroke River.

The cliffs of small Skomer Island off the southwest coast of Wales are accessible only by boat. Skomer has a large population of breeding seabirds.

Day 6

SKELLIG ISLANDS - KNIGHTS TOWN (VALENTIA ISLAND), IRELAND

The magnificent Skellig Islands lie 8 miles (12 km) off the coast of Portmagee in South West Kerry. Rising majestically from the sea, Skellig Michael towers 714ft. (218 metres) above sea level. On the summit of this awe-inspiring rock you will find a remarkably well preserved sixth century monastic settlement now designated a UNESCO World Heritage Site. Skellig is equally renowned as the home of some 27,000 pairs of gannets – the second largest colony of such seabirds in the world.

Knightstown is the largest settlement on Valentia Island, and has a population of 156 people. Knightstown itself is one of the few 'town-planned' villages of Ireland. The village of Knightstown was laid out by Alexander Nimmo in 1830-31, but it wasn't built until the early 1840's.

Day 7

CLIFFS OF MOHER – GALWAY, IRELAND

Stretching for 8km (5 miles), as the crow flies, the Cliffs of Moher have long enjoyed the status of one of Ireland's most visited tourist attractions – and the visitor center provides the pivotal point to direct lovers of nature, geology and simple beauty in the right direction. The cliffs also form part of the Burren and Cliffs of Moher UNESCO Global Geopark. They are made up of various types of perpendicular or overhanging rocks including sandstone, siltstone and shale.

Galway is a city in the West of Ireland in the province of Connacht. It lies on the River Corrib between Lough Corrib and Galway Bay and is surrounded by County Galway. It is the fourth most populous urban area in the Republic of Ireland and the sixth most populous city in the island of Ireland. It is both a picturesque and lively city with a wonderful avant-garde culture and a fascinating mixture of locally owned speciality shops, often featuring locally made crafts. Indeed, local handcrafts are a feature of the entire region including hand knits, pottery, glass, jewellery and woodwork.

Day 8

KILRONAN (AARAN ISLANDS) - CLARE ISLAND, IRELAND

Kilronan is the principal town on the island of Inismore (Inis Mór) in the Aran Islands located in Galway Bay, and is one of them most picturesque spots in Ireland. Once for the sole purpose as a fishing port for the Aran fisherman, today it is the main port for the ferry companies and with its white sandy beach it has a wide selection of first class restaurants serving seafood, and traditional Irish bars, buskers, and accommodation.

Clare Island is a mountainous island guarding the entrance to Clew Bay located 3.5 miles off the west coast of County Mayo, Ireland. The ferry crossing from Roonagh Pier near Louisburg takes 25 minutes and it's not unusual to encounter a school of dolphins and or a herd of seals.

Day 9

KILLYBEGS, IRELAND

The days start early in Killybegs, as this quiet fishing town rumbles to life, and ships with red and blue paint peeling from their hulls quietly depart, ready for a morning's hard work at sea. Located in a scenic part of County Donegal, Killybegs is Ireland's fishing capital, and the salty breeze and pretty streets serve as a revitalizing medicine for visitors. The town is also your gateway to some of the country's most majestic coastal scenery, which is dotted with flashing white lighthouses, keeping watch over invigorating seascapes.

Day 10

PORTRUSH, IRELAND

Portrush is adjacent to the stunning North Antrim coastline. Here lies the medieval Dunluce Castle ruins. Perched picturesquely at the edge of a rocky outcropping high above the sea, the castle is dramatically surrounded by terrifyingly steep drops, which the early Christians and Vikings would have considered a very important security feature. The castle and surrounding areas have been frequently used for the filming of "Game of Thrones". Another attraction reached from Portrush is the Giant's Causeway -40,000 hexagonal basalt columns that descend in a kind of pathway to the sea.

Day 11

DUBLIN - DISEMBARK

Ask any Dubliner what's happening and you may hear echoes of one of W. B. Yeats's most-quoted lines: "All changed, changed utterly." No matter that the decade-long "Celtic Tiger" boom era has been quickly followed by the Great Recession—for visitors Dublin remains one of Western Europe's most popular and delightful urban destinations. Whether or not you're out to enjoy the old or new Dublin, you'll find it a colossally entertaining city, all the more astonishing considering its intimate size.
Silver Cloud
After extensive refurbishment, Silver Cloud is the most spacious and comfortable ice class vessel in expedition cruising. Her large suites, her destination itineraries and her unparalleled service make her truly special. Her four dining options will tantalise your taste buds and as 80% of her suites include a veranda, watching a breaching whale or a few cavorting penguins has never been so personal. Broad sweeping decks with multiple open spaces and a swimming pool complete what is surely the most distinctive expedition ship sailing today. A limited number of guests in polar waters, mean that Silver Cloud has the highest space to guest and crew to guest ratios in expedition cruising. With her 16 zodiacs, 10 kayaks, possibilities are almost limitless with ship-wide simultaneous explorations. Finally, a team of up to 22 passionate and dedicated expedition experts are always at hand to ensure your voyage is enhanced every step of the way.
GUESTS: 254
CREW: 223
LENGTH: 514.14 Feet / 156.7 Meters
SUITES
Silversea's oceanview suites are some of the most spacious in cruising, and all include the services of a butler. Select your suite and Request a Quote – guests who book early are rewarded with the best fares and ability to select their desired suite.
Owner's Suite
This stylish apartment offers the superlative in levels of space, comfort and service on board. A perfect mix of expedition experience with luxury lifestyle. Available as a one-bedroom configuration or as two bedroom by adjoining with a Vista Suite.
Grand Suite
Expertly designed and exquisitely appointed. The ideal space for sharing stories with fellow explorers and new friends. With enough space to roam both in and outside, this suite is perfect relaxing and recounting the highlights of your day. Available as a one-bedroom configuration or as two-bedroom by adjoining with a Veranda Suite.
Royal Suite
Stately. Commanding and majestic. Perfect for relaxing after a days' exploring and looking through your photos. With lectures being streamed live to your room, this is the pinnacle of good living at sea. Available as a one-bedroom configuration or as two-bedroom by adjoining with a Veranda Suite.
Silver Suite
Stylish and sophisticated with larger verandas, excellent for taking pictures and bird-watching. Situated midship, this suite is perfection in design and comfortable living. A huge walk in wardrobe, a beautiful marbled bathroom and a spacious living area completes the picture. Silver Suites accommodate three guests.
Medallion Suite
With a room configuration that favors watching the sun rise from the comfort of your bed and losing yourself in the mesmerizing seascapes, this suite is the perfect answer to adventure cruising. A large walk-in wardrobe, and an expansive living make the Medallion Suite a your home away from home on the high seas. Medallion Suites accommodate three guests.
Deluxe Veranda Suite
A Silversea signature, with a preferred central location, the Veranda Suite is spacious and welcoming.Floor-to-ceiling glass doors open onto a furnished private teak veranda from where you can contemplate anything from the midnight sun to an antarctic sunrise. The Deluxe Veranda Suite offers preferred central location with identical accommodation to a Veranda Suite.
Veranda Suite
A Silversea signature, the Veranda Suite is spacious and welcoming. Floor-to-ceiling glass doors open onto a furnished private teak veranda from where you can contemplate anything from the midnight sun to an antarctic sunrise. Some Veranda Suites accommodate three guests (Suites going from 505 to 510, and from 605 to 610).
Vista Suite
Your home away from home while you embrace the intrepid explorer within. The suite's seating area has plenty of room to relax while you go over your notes, ready for the next adventure. Large picture windows frame panoramic ocean views, ideal for appraising the local wildlife.
RESTAURANTS
Discover our collection of onboard venues where you'll enjoy spending time with like-minded travellers and of course, our personalized all-inclusive service.