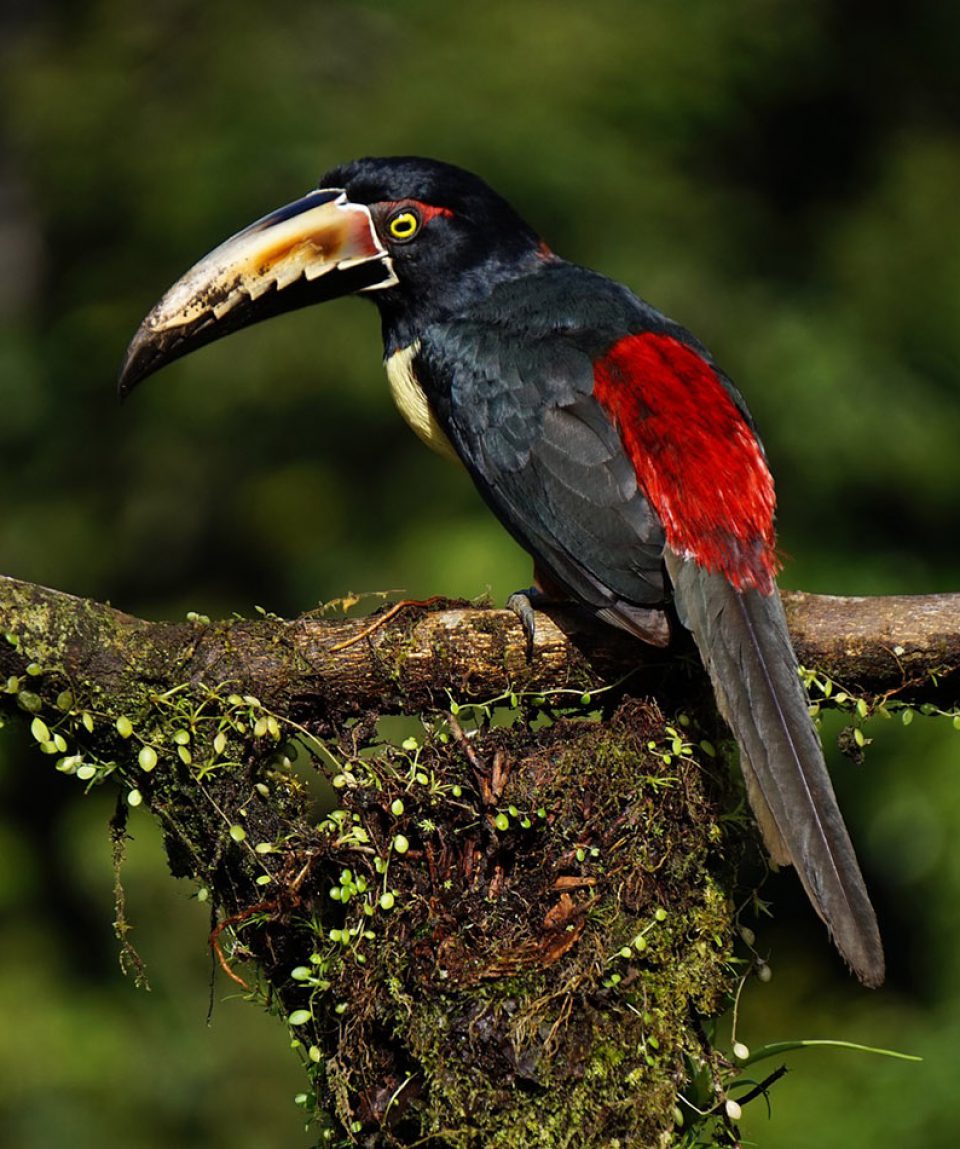 Costa Rica Deluxe Sustainable Tourism Program
DURATION:   8 Days/7 Nights
EMBARK:    SAN JOSE, Costa Rica
DISEMBARK:  Quepos, Costa Rica
LAND TOUR:  Perfect as a destination tour, and as an add-on to our Costa Rica/Panama cruises.  Also available in reverse—arriving off cruise ship
All about the Costa Rica Deluxe Sustainable Tourism Program.
A Message from Richard West
In this program we have focused on using ecologically sensitive boutique hotels, certified by the Costa Rica Tourist Board. Each of the boutique hotels used are models of sustainable tourism businesses. At each property you may learn about how they have achieved their certifica- tions through various ecologically and environmentally responsible initiatives.
Designations are assigned to properties based on their sustainability standards and achievements, with a maximum pos- sible of five "Leafs.  Each of our properties have achieved at least four "Leafs", with one, the Arenas del Mar, achieving five "Leafs" to go with its five "Stars".
Stephen Weston and I personally scouted and visited each hotel in September 2012 to ensure each met our standards. This is a truly unique program with a focus on ecology, bird and wild life, and showcas- ing the amazing biodiversity of this small, magical country. Stephen grew up in Costa Rica in a family known for ecol- ogy and preservation. From his grandfather, who was responsible for protecting Coco Island, to his father and siblings, all are involved in natural history and ecotourism.
This is a very special program focusing on the natural wonders – birds, wildlife, and flora – and showcasing the amazing diversity of this small magical country.
Richard West
Founder and CEO – Chief Experience Officer
The tour package inclusions and exclusions at a glance
What is included in this tour?
Items that are included in the cost of tour price.
Ecologically sensitive boutique hotel
Visit Manuel Antonio National Park
See nesting sea turtles and jungle canals
With over 856 different species, Costa Rica is a birders paradise!
Day 1

ARRIVE SAN JOSE, CR

Meet and transfer to the four "Leaf" luxury boutique HOTEL GRANO DE ORO. Situated on a shady street just off San Jose's main thoroughfare, Hotel Grano de Oro is a true oasis in the heart of the city. Con-verted from a Tropical Victorian mansion, the 40-room hotel maintains the warmth and comfort of a private home with all the amenities of a fine hotel. Service is paramount and the perpetually smiling staff of the Hotel Grano de Oro welcome guests to their "home away from home" time and again. Each room is different, reflecting the historic roots of the boutique hotel.

Day 2

TORTUGUERO

A short and scenic early morning flight over the cen-tral mountains to the Caribbean coast brings you effortlessly to Tortuguero, famous for nesting sea turtles and jungle canals. Tortuguero is a unique and exotic place. You will feel transported to an ancient time, discovering unexplored places and incredible wildlife. Tortuguero National Park is one of the most varied within the national park system, with 11 eco-logical habitats, from high rainforest to herbaceous marsh communities.

There are no roads in this jungle environment – the only transportation is by boat. Your MANATUS HOTEL boat will meet you at the airfield and take you to your luxury boutique hotel for breakfast. Manatus Hotel has just 12 large rooms to make your stay a luxury. Each is equipped with two queen size beds, air conditioning, cable TV, and mini bar – Plus inter-net, spa, bar and pool – eve-rything to make your stay en-joyable.

Travel in to the national park by boat to ex-plore the jungle wilderness and see amazing wildlife – birds, monkeys, reptiles and incredible vegetation. Return to your hotel for lunch. In the afternoon visit the lo-cal town and conservation center. Enjoy a gourmet dinner this evening. And perhaps take a jungle walk to see the night life! (B, L, D)

Day 3

DAY EXPLORING TORUGUERO NA-TIONAL PARK

Enjoy a variety of activities, including kayaking, and returning to the canals to see more wildlife. Perhaps observe the sea turtles during their nesting, egg-laying behavior in the evening or the hatchings in the morning along the beach. Options are available such as sport fishing. (B, L, D)

Day 4

DANTICA CLOUD FOREST LODGE

After breakfast you will leave the jungle to fly back to San Jose, where you will be met and driven up into the cloud forest of the central highlands. The Dantica Cloud Forest Lodge is situated high in the mountains of the Talamanca mountain range, at an altitude of 2.600 meters above sea level, in the middle of the Upper Montane Cloud Forest.

The eight luxurious bungalows are located in the heart of the Los Quetzales National Park, some 84 km from the capital San José towards Southern Costa Rica. Constructed on the top of a hill in the middle of this valley full of Quetzals, these bungalows offer a spectacular view of the cloud forest. The bungalows offer a beautiful view of the surrounding mountains and forest. Large floor to ceiling glass windows, some up to 6 meters wide, give you the impression of be-ing in the forest itself. Every Bungalow has its own terrace situated at the south or west side, combining the warmth of the sun in this temperate climate with a view that enables you to oversee the valley and primary forest. Ideal for bird watching from a com-fortable chair, the terrace is covered so that neither fog nor rain will disturb you. Each bedroom has a queen-sized bed or separate beds, according to your preference. (B)

Day 5

BIRD WATCHING

Leave for an early morning walk to see the Re-splendent Quetzal (Pharomachrus mocinno), the sa-cred bird of the Aztec and Maya Cultures. San Gerar-do de Dota is known to be the best place in Costa Rica to see the Quetzal, with a yearly success rate of over 95% with our experienced guide. The valley of San Gerardo is a wonderful place to observe birds; it is catalogued in the famous book: ´´Fifty place to go birding before you die´´. Of the more than 150 spe-cies that are found in this valley, over 30% are en-demic, such as the long tailed silky-flycatcher (Ptilogonys caudatus), fiery-throated hummingbird (Panterpe insignis), black-faced solitaire (Myadestes melanops) and collared redstart (Myioborus tor-quatus). This afternoon we will drive into the valley and visit a beautiful waterfall. Enjoy lunch alongside the pristine Savegre River. (B)

Day 7

BIRD WATCHING – CANOPY TOUR

Costa Rica is a birder's paradise. With over 856 different species, you just need to go for a short walk to see a multitude of colorful exotic birds. Here, in Arenas Del Mar, the trees, bushes and flowers planted just outside your room, were chosen because they attract different species of tanager, euphonias, flycatchers, robins, woodpeckers and over 180 different species of birds. During the early hike we usually see monkeys, sloths and agoutis as well. Come and join us for a fascinating nature expe-rience!

For those who love nature and hiking, the Rainmaker Reserve is just the right tour! Hand rails and easy to follow footpaths, along with observation platforms, allow you to observe water-falls, discover the area's rich biodiversity and explore the majesty of the forest from a bird's eye view. The Rainmaker is a 1,500-acre reserve mainly consisting of primary rainforest and home to thousands of unique plant species, many varieties of birds, morpho butterflies, and the colorful poison dart frog. The Canopy Bridge system consists of sus-pension bridges of six sections total, spanning from platforms attached to massive hardwood trees to create the most impressive canopy walk in Costa Rica. At the end of the walk, there are several beau-tiful waterfalls where you can a refreshing dip.
Afterwards, enjoy a spa treatment, followed by a wonderful dinner overlooking the Pacific. (B)

Day 8

FLY TO SAN JOSE – HOME – OR JOIN CRUISE

You won't want to leave, but if you must, you will fly from Quepos airport back to San Jose and connect with your flight home, fully energized and reinvigor-ated by a week of truly memorable natural experi-ences. Or drive to a nearby port to join your cruise to Panama. (B)